I absolutely loved Lies and Other Acts of Love! I am so thrilled that Kristy is here today to talk about the 'voices' she hears when she is working on her books.
Welcome to The Book Bag, Kristy ~~ I have heard other authors say that they 'hear voices in their head' and that is how they write their books: the characters are telling their stories. Not being a writer myself, that concept has always intrigued me. Does this happen to you? How do you come up with your stories?
Good morning, Book Bag readers! I'm going to be honest. The idea of "guest posts" is sometimes kind of scary to me. I want to say something entertaining but informative, something new that isn't the same old guest post you read on every book blog. So I was EXTREMELY excited when Susan wrote me and asked me to write a guest post on a very specific topic: the voices I hear in my head! Thanks, Susan, for giving me something so fun to think about! And thanks to all of Susan's fabulous readers for spending a few minutes with me! If you're looking for some new "voices" to read, check out my new novel Lies and Other Acts of Love!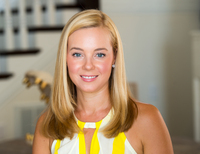 Kristy Woodson Harvey
I'd never given that much thought to the "voices," really. That's probably a good thing because I would have taken myself right to the neurologist if I had.
In fact, it wasn't until I was at the Southern Festival of Books in Nashville last year, talking about Dear Carolina, that I really even considered them. As another author and I were discussing "hearing" our characters, an audience member raised her hand and said, "Do you think these voices are a mental health concern?"
I laughed, and the incredibly quick-witted Amanda Eyre Ward, who was on the panel with me, picked up her phone and said, "I'm not sure. Let me call my therapist."
We all got a good laugh. Since then, I have recognized that most people don't hear voices in their head—and consider it a good thing! But, for a lot of the writers I know, a lack of voices would be a serious occupational hazard, the ultimate writers block. Because, without characters, writing novels would be a little tricky!
I've paid more attention to these characters that I hear talking to me lately, trying to figure out how to describe them for this very post. The best way I can explain it is that it's more like playing out a conversation in my head. Say, for example, you were going in to have a particularly difficult discussion with your best friend. You know, probably that one about how she keeps picking the same horrible guy over and over again? And you were planning what you were going to say and then you could imagine what she would say back, how she would cross her arms, and her voice would get high and squeaky when she argued that it was different this time. And how you wouldn't say anything, but you would roll your eyes so she would know that it was So. Not. Different.
That's how it happens for me. I mostly hear these characters talking when I'm writing them, when I'm plotting out what they would say or what they would do. They become very clear to me, as if they were real people.
The big exception was Dear Carolina. Jodi, the birth mother, wasn't a character I was trying to dream up. She was more the answer to a question. My son had just been born, and, contemplating what it would be like to give up your child, I remember lying in bed and hearing Jodi's voice as clearly as if she were sitting beside me. I knew who she was all of a sudden, and, while it wasn't particularly convenient for someone who had a brand new baby, I felt like I had to get up and write down her thoughts and feelings. Her voice was different from anyone's voice I had ever heard, and I felt like she had a story that needed to be told.
My mind created a character. But, in reality, creating characters is something we're taught to do from the time we're children. Our Barbies talk to each other. Our stuffed animals play games. Our Playmobil people go to work and get married and feed their children dinner.
Somewhere along the way, most people quit doing this. They have real conversations with real people and don't make up stories about inanimate objects. Maybe they make up stories in their heads about people riding beside them on the subway, but they're probably not envisioning what that person ate for breakfast or the cadence of his or her speech or what exactly he said to his wife as he walked out the door this morning.
I watch my four-year-old son now when he plays. Even his cars have families and backstories. He knows what they want for lunch, where they drove today, what they felt like while they did. Every inanimate object talks in a particular way, has a set of likes and dislikes that is uniquely his or her own and is very distinct.
So I think that the "voices" aren't, as that audience member suggested, a mental health concern. Or maybe that's just what I tell myself to keep avoiding that co-pay... Instead, I think, as my son and I play T-Rex and Stegosaurus, authors might very well just be those same little kids that never grew up.
Thank you again for having me today! It was such a pleasure!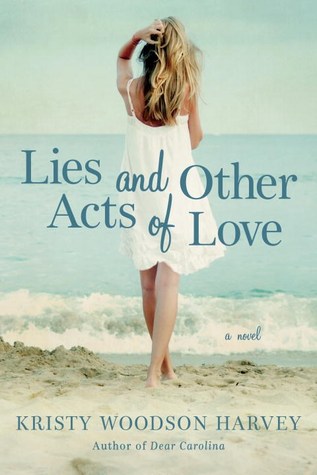 Lies and Other Acts of Love by Kristy Woodson Harvey
Paperback and e-book, 352 pages
Published: April 5th 2016 by Berkley
Dear Carolina was praised as "Southern fiction at its best." Now author Kristy Woodson Harvey presents a new novel about what it really means to tell the truth . .
After sixty years of marriage and five daughters, Lynn "Lovey" White knows that all of us, from time to time, need to use our little white lies.
Her granddaughter, Annabelle, on the other hand, is as truthful as they come. She always does the right thing—that is, until she dumps her hedge fund manager fiancé and marries a musician she has known for three days. After all, her grandparents, who fell in love at first sight, have shared a lifetime of happiness, even through her grandfather's declining health.
But when Annabelle's world starts to collapse around her, she discovers that nothing about her picture-perfect family is as it seems. And Lovey has to decide whether one more lie will make or break the ones she loves . . .
Powell's
|
Google Play
|
Walmart
|
Hudson Booksellers
|
Kobo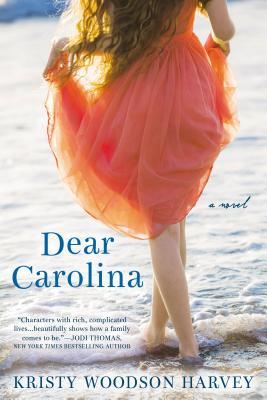 Dear Carolina
For more information and to read my thoughts, click
HERE
.
Kristy Woodson Harvey is the author of
Dear Carolina
. She blogs at Design Chic about how creating a beautiful home can be the catalyst for creating a beautiful life and loves connecting with readers at kristywoodonsharvey.com. She is a graduate of the University of North Carolina at Chapel Hill's school of journalism and holds a Master's in English from East Carolina University. She is a regular contributor for The Salisbury Post, Domino magazine and Houzz. She lives in North Carolina with her husband and three-year-old son.
I have one print copy of Lies and Other Acts of Love for the lucky winner!
Be sure to check out my release day post
HERE
for a chance to win
a $1,000 Shop Design Chic gift card.
Be sure to check the sidebar for my current giveaways!