Happy Release Day!
TimeReaping in Deadwood!
TimeReaping in Deadwood by Ann Charles(Deadwood #13)Paranormal, Mystery, 345 pagesPublished September 28, 2023 by Ann Charles
Time is a tricky devil. And so is that blasted imp!
Violet Parker needs to catch the little terror before it wreaks even more havoc in the Black Hills. But now that she's saddled with this dang Timekeeper gig, she has a lot to juggle, like the real monsters wanting to tear the flesh from her bones just for fun.
If she can't figure out how to wrangle "time" to save her family, the Grim Reaper might come swinging for them next.
But what about that danged honey-loving imp?
"Bravery badges are frickin' overrated." ~ Violet Parker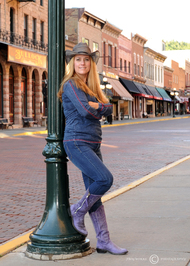 Ann lives in the beautiful Northern Arizona mountains with her clever husband, charming kids, and an incredibly sassy cats. After many years and several colleges, she managed to obtain her Bachelor's Degree in English with an emphasis on creative writing from the University of Washington.
Her books are character-driven, mixed-genre mysteries full of mystery and mayhem, comedy and spice, and whatever else feels right. Sisters in Crime was kind enough to let her join their membership years ago. In addition, she's a member of Western Writers of America.
Ann has written a bunch of contemporary, award-winning novels in multiple series full of quirky characters with whom she loves to spend time as much as reality allows. Right now, while you're reading this, she's probably frolicking around in another story.
While her reading preferences range from adventure to horror to western and mystery, ever since she tried on her first training bra, she has loved a good mix of romance, too.
When she's not dabbling in fiction, she's penning writing-themed articles or standing on her workshop soapbox, sharing what she has learned over the years about the writing craft and marketing. ~ Author's website
*******************************
Be sure to check the sidebar for all of my current giveaways!