I have sooooo many books! The Book Spotlight Giveaway feature that I post every Saturday is a way for me to clear my shelves and to share some of the many books I have. This feature is a way for my to cull my collection and to give someone else the opportunity to enjoy these treasures.
****************************


Good luck and be sure to stop back next week!
Santorini Sunsets by Anita Hughes
ARC, 304 pages
Published August 2nd 2016 by St. Martin's Griffin

The seventh intoxicating love story by Anita Hughes, set in beautiful Santorini, Greece. When a Hollywood superstar and a NYC society girl fall in love, sparks fly and secrets are revealed.

Brigit Palmer is thrilled to be on the Greek Island of Santorini. She's here for her wedding to Hollywood heart-throb Blake Crawford, one of America's most eligible bachelors. Brigit's parents have rented a villa, and soon guests will arrive from all over the world for the intimate ceremony.

Brigit is a New York socialite, and she's just given up her position at a Manhattan law firm to run her father's philanthropic foundation. Things are finally falling into place. Love, career, family. Everything is going so well...until she steps into the garden and sees her ex-husband Nathaniel hiding in the rose bushes.

Nathaniel, a failed novelist, announces that Blake sold the rights to the wedding to HELLO! Magazine for two million dollars (donated to charity), and he is the reporter assigned to write the story. Everyone expects Brigit to have her happily ever after, including her mother who taught her how to lead the perfect lifestyle, her younger sister Daisy who impatiently wishes for her own love story, and of course, her fiancé. Things are supposed to work out for them. But when Brigit discovers an unsettling secret about Blake, she questions everything she's ever believed about love, and wonders if she's better off alone.

Told in Anita Hughes' spectacularly descriptive prose, Santorini Sunsets is a story about family bonds, first loves, and the question of when to let go and when to hang on as tight as you can.
I read Santorini Sunsets when it came out in 2016 and loved my trip to Santorini. You can read my thoughts here.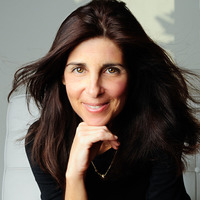 Anita Hughes was born in Sydney, Australia and had a charmed childhood that included petting koala bears, riding the waves on Bondi Beach, and putting an occasional shrimp on the barbie. Her writing career began at the age of eight, when she won a national writing contest in The Australian newspaper, and was named "One of Australia's Next Best Writers." (She still has the newspaper clipping.)
She received a B.A. in English Literature with a minor in Creative Writing from Bard College, and attended UC Berkeley's Masters in Creative Writing program.
Her debut novel Monarch Beach was released in June 2012, followed by Market Street and Lake Como in 2013. French Coast and Rome in Love were released in 2015.
Island in the Sea was released in April 2016 and Santorini Sunsets will be released in August 2016.
She lives in Dana Point, CA with her family, where she interrupts her writing to watch the glorious sunsets.
Connect with Anita
Website
|
Facebook
|
Twitter
|
Goodreads
******************************
Be sure to check the sidebar for all of my current giveaways!