Gone Haunting in Deadwood
Gone Haunting in Deadwood by Ann Charles
Series: The Deadwood Humorous Mystery
Audio-book narrated by Caroline Shaffer
Published September 11, 2013 by Blackstone Audio, Inc.
Trespassers will be gutted and hung!—Slagton's Town Motto
Normally, not even drunk on a bet would Violet Parker go to Slagton, a creepy ghost town inhabited by those too stubborn—or deranged—to leave.
But a certain bullheaded Deadwood detective has a problem—his informant from Slagton has gone missing. When Violet is shanghaied into taking a hunting trip to the ghost town to search for the missing snitch, she stumbles into trouble that will take more than a double-barreled shotgun to escape.
Will Violet survive this new Hell that haunts her, or will she end up on Slagton's growing list of those gutted and hung?
My thoughts about Gone Haunting in Deadwood ~~
(I love to note the first lines of the books I'm reading. First lines can really grab a reader's attention and I love seeing where the author takes the reader after their first line.)
First line—
"Friday, December 14 Slagton, South Dakota (in the boonies south of Deadwood) If Hell had a butt crack, the town of Slagton would be located one freckle north of the sphincter."
I absolutely love this series! The characters that Ann Charles has created and woven into this hilarious mystery series are unique, memorable, quirky, and lovable. I am truly amazed at the story-lines this author comes up with as she pits them her characters against the evils of another world, and sometimes against each other. I love all of the characters in this series and love stopping back in Deadwood to visit with them. Life is never dull in Violet's world, that's for sure.
Gone Haunting in Deadwood
is book #9 and one might think that a series that has gone on that long might get kind of stale and repetitive. But this series is anything but that. The relationships of the characters have grown and developed with each book—there is definitely nothing stagnate there. And Violet and her crew are constantly coming up against different creatures and learning new ways to conquer them. I have to hand it to Ann, she has one crazy vivid imagination!
I listened to the audio-book of
Gone Haunting in Deadwood
, as I have several other ones in the past. The narrator does an AMAZING job and I just love listening to this series on audio.
*******************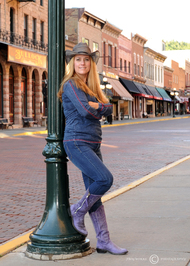 Ann lives in the beautiful Northern Arizona mountains with her clever husband, charming kids, and an incredibly sassy cat. After many years and several colleges, she managed to obtain her Bachelor's Degree in English with an emphasis on creative writing from the University of Washington.
Her books are mixed-genre mysteries full of mayhem and fun, romance and comedy, and whatever else feels right. Sisters in Crime was kind enough to let her join their membership years ago. In addition, she's been a member of Romance Writers of America for so many moons that she's lost count.
Ann has written a bunch of contemporary, award-winning novels in multiple series full of quirky characters with whom she loves to spend time as much as reality allows. Right now, while you're reading this, she's probably frolicking around in another story.
While her reading preferences range from adventure to horror to mystery, ever since she tried on her first training bra, she has loved a good mix of romance, too.
When she's not dabbling in fiction, she's penning writing-themed articles or standing on her workshop soapbox, sharing what she has learned over the years about the writing craft and self-promotion.
*******************************
Be sure to check the sidebar for all of my current giveaways!