Chronicles of a Radical Hag (with Recipes) by Lorna Landvik
Hardcover, 320 pages
Published March 26th 2019 by University of Minnesota Press
A bittersweet, seriously funny novel of a life, a small town, and a key to our troubled times traced through a newspaper columnist's half-century of taking in, and taking on, the world.
The curmudgeon who wrote the column "Ramblin's by Walt" in the Granite Creek Gazette dismissed his successor as "puking on paper." But when Haze Evans first appeared in the small-town newspaper, she earned fans by writing a story about her bachelor uncle who brought a Queen of the Rodeo to Thanksgiving dinner. Now, fifty years later, when the beloved columnist suffers a massive stroke and falls into a coma, publisher Susan McGrath fills the void (temporarily, she hopes) with Haze's past columns, along with the occasional reprinted responses from readers. Most letters were favorable, although Haze did have her trolls; one Joseph Snell in particular dubbed her "liberal" ideas the "chronicles of a radical hag." Never censoring herself, Haze chose to mollify her critics with homey recipes—recognizing, in her constantly practical approach to the world and her community, that buttery Almond Crescents will certainly "melt away any misdirected anger."
Framed by news stories of half a century and annotated with the town's chorus of voices, Haze's story unfolds, as do those of others touched by the Granite Creek Gazette, including Susan, struggling with her troubled marriage, and her teenage son Sam, who—much to his surprise—enjoys his summer job reading the paper archives and discovers secrets that have been locked in the files for decades, along with sad and surprising truths about Haze's past.
With her customary warmth and wit, Lorna Landvik summons a lifetime at once lost and recovered, a complicated past that speaks with knowing eloquence to a confused present. Her topical but timeless
Chronicles of a Radical Hag
reminds us—sometimes with a subtle touch, sometimes with gobsmacking humor—of the power of words and of silence, as well as the wonder of finding in each other what we never even knew we were missing.
My thoughts about
Chronicles of a Radical Hag (with Recipes)
~~
(I love to note the first lines of the books I'm reading. First lines can really grab a reader's attention and I love seeing where the author takes the reader after their first line.)
First line—
"Minus what that vicious lying mirror tells me, and the knees that crackle like kindling every time I take the stairs, and the ear canals that have muddied with silt of late, eighty-one feels an awful lot like twenty-nine. Okay, maybe fifty-three."
Chronicles of a Radical Hag is a wonderful story that focuses on an older woman—a very wise woman—one who imparts that wisdom through her newspaper column. Not everyone agrees with her snippets of wisdom and that's where the fun comes in. As Haze Evans lies in a hospital bed after a stroke, the paper reprints some of her columns. Once again, her wisdom is shared and touches peoples lives.

Lorna Landvik writes a meaningful, thought-provoking story filled with her wonderful sense of humor and wit. I thoroughly enjoyed reading Chronicles of a Radical Hag, learning from Haze, and watching the people whose lives she touched change for the better.
I received a copy of Chronicles of a Radical Hag (with Recipes) from BookishFirst and this is my honest review.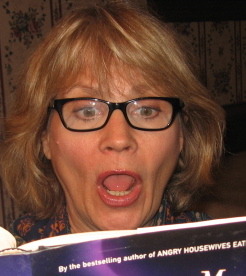 Lorna Landvik is a mother of two and wife of one. She is the author of eight novels, including the best-selling ANGRY HOUSEWIVES EATING BON BONS, PATTY JANE'S HOUSE OF CURL and OH MY STARS. Also an actor and playwright, Lorna has appeared in many stage productions. She is a new and passionate neophyte to the practice of yoga, which is a fine antidote to her long established practice of lounging. ~ Goodreads