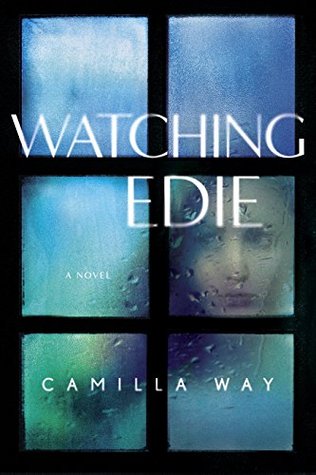 Watching Edie by Camilla Way
Print and e-book, 304 pages
Published: August 2nd 2016 by NAL
For fans of
Gone Girl
and
The Girl on the Train
: A dazzling work of psychological suspense that weaves together the past and present of two women's twisted friendship.
Beautiful, creative, a little wild… Edie was the kind of girl who immediately caused a stir when she walked into your life. And she had dreams back then—but it didn't take long for her to learn that things don't always turn out the way you want them to.
Now, at thirty-three, Edie is working as a waitress, pregnant and alone. And when she becomes overwhelmed by the needs of her new baby and sinks into a bleak despair, she thinks that there's no one to turn to…
But someone's been watching Edie, waiting for the chance to prove once again what a perfect friend she can be. It's no coincidence that Heather shows up on Edie's doorstep, just when Edie needs her the most. So much has passed between them—so much envy, longing, and betrayal. And Edie's about to learn a new lesson: those who have hurt us deeply—or who we have hurt—never let us go, not entirely…
My thoughts about Watching Edie ~~
(I love to note the first lines of the books I'm reading. First lines can really grab a reader's attention and I love seeing where the author takes the reader after their first line.)
First line—
'Outside my kitchen window the long afternoon empties of light. I look at London stretched out far below, my dripping hands held poised above the sink.'
So....
Watching Edie
is being compared to both
Gone Girl
and
The Girl on the Train
in all the blurbs I have been seeing. I loved both of those books and loved that the storylines kept me guessing and then left me with my mouth hanging open at the end. What just happened??
Watching Edie
did the same thing for me. I knew there was going to be a twist to the story but for the life of me, I could not figure it out. I kept trying to guess who were the good guys and which ones were the twisted ones.
This book kept me on the edge of my seat and I couldn't read fast enough. It just goes to show that no one and nothing is as it seems.
Thank you to
First to Read
for a copy of
Watching Edie
in exchange for my honest opinion.
Camilla Way was born in Greenwich, south-east London, and studied Modern English and French Literature at the University of Glamorgan. Her father was the poet and author Peter Way. Formerly Associate Editor of the teenage girls' magazine Bliss, she is currently an editor and writer on the men's style magazine Arena. Having lived in Cardiff, Bristol, Bath and Clerkenwell, she now lives in south-east London.