It's Monday! What Are You Reading?
is a place to meet up and share what you have been, are and about to be reading over the week. It's an opportunity to visit other blogs and to comment on their reads. And ... you can add to that ever growing TBR pile! So welcome everyone. This meme started with J Kaye's Blog and then was taken up by Sheila from
Book Journey.
Sheila then passed it on to Kathryn at the
Book Date
. And here we are!
**************************************
This is two weeks worth of reads since I didn't get a chance to post last week.

At the time this post is scheduled to go live, I will be undergoing knee surgery. We are hoping it will be a partial knee instead of a total knee replacement so send positive thoughts my way. Anyway, with the lead up to surgery and the busy, holiday weekend last week (4 days babysitting the 4yo grandson), my reading and blogging life has been in kind of a slump. It's been hard to concentrate, what with thinking about the surgery and also being in pain like I have been. It's been an eye-opener to find out how much I was relying on ibuprofen for pain management when I have had to go without it. this past week leading up to surgery.

I have a lot of reviews to catch up on as well as getting my reading mojo back. I apologize to any authors who are waiting on me. It's been hard to be upbeat and complimentary about the fabulous books I've been reading right now. I'll get back on track soon and will get all caught up.
Thanks for stopping by. I hope you all have a good week. Happy reading!
What I'm currently reading
Castaway Cottage
by Joanne DeMaio
Love Joanne's stories!
Just started this one.
What I recently finished
A Sister's Place
by Savannah Page
(audio-book)
Interesting look at sister dynamics.
(A Sweet Lake Novel Book 3)
by Christine Nolfi
Another wonderful story! I love this series.
Ross Poldark
(The Poldark Saga #1)
by Winston Graham
This was a book club pick. Not a big fan so I won't be reading any more in the series.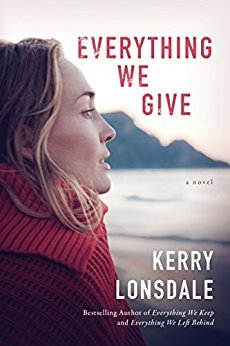 Everything We Give
(Everything #3)
by Kerry Lonsdale
Love this series!
Smyth Saves the Date
(The Marrying Type Book 2)
by Laura Chapman
Great short story continuing this fun series!
Beach House Reunion
(Beach House #5)
by Mary Alice Monroe
Loved my return to the Beach House.
What I am going to read next
The Space Between
by Dete Meserve
Super excited to start this one!


I really love my reading life!
What are you reading this week?
*************************
Be sure to check the sidebar for all of my current giveaways!