The Memories We Bury by H. A. Leuschel
Kindle e-book, 314 pages
Published April 17th 2020 by EKT Selection Ltd
An emotionally charged and captivating novel about the complexities of female friendship and motherhood.
Lizzie Thomson has landed her first job as a music teacher, and after a whirlwind romance with Markus, the newlywed couple move into a beautiful new home in the outskirts of Edinburgh. Lizzie quickly befriends their neighbour Morag, an elderly, resourceful yet lonely widow, who's own children rarely visit her. Everything seems perfect in Lizzie's life until she finds out she is pregnant and her relationship with both Morag and Markus change beyond her control.
Can Lizzie really trust Morag and why is Markus keeping secrets from her?
In The Memories We Bury the author explores the dangerous bonds we can create with strangers and how past memories can cast long shadows over the present.
My thoughts about The Memories We Bury ~~
(I love to note the first lines of the books I'm reading. First lines can really grab a reader's attention and I love seeing where the author takes the reader after their first line.)
First line—"I am standing on shaking legs, my arms wrapped around my chest, shivers running down my spine."
Oh, you just know there are going to be secrets in a story with the title The Memories We Bury. Bury the memories and make up a new reality, how could that hurt anyone? Well, just wait until you read this book—you'll see how harmful that new reality can be. And everyone has secrets.
This story is a compelling read and definitely a page turner. I found myself constantly trying to figure out the characters and what their agendas were. Was
Morag really as helpful as she appeared to be or did she have other plans for the family next door? Why wasn't Markus more of a husband to Lizzie and father to Jamie? Is Lizzie as unstable as the other two think?
As the story progresses and memories and secrets are revealed, what will be the outcome for this group of people
—
who will get hurt and who will be saved?
There were a lot of great lines about memories throughout the story—about wanting to forget them, bury them, and wondering if it's even possible to escape them. Here are two I especially liked.
"The harder I try to bury part of my memories, the fiercer is the tremble they create below the surface when I as much as take a glimpse into their direction."
"Wouldn't it be a blessing to forget some of our memories forever, erased from the mind as if they'd never happened?" I don't know, would it?
The Memories We Bury
is such a riveting story and you will find yourself drawn into Lizzie,
Morag and Markus'
lives as you try to figure out how it's all going to end. I definitely recommend it!
I received a copy of The Memories We Bury from the author and this is my honest opinion.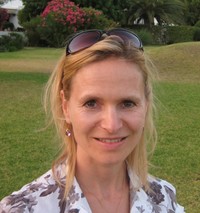 Helene grew up in Belgium where she gained a Master in Journalism & Communication, which led to a career in radio and television in Brussels, London and Edinburgh.
She now lives with her husband and two children in Portugal and recently acquired a Master of Philosophy with the OU, deepening her passion for the study of the mind. ~ Goodreads