Feels Like Falling!
Feels Like Falling by Kristy Woodson Harvey
Print and ebook, 400 pages
Published April 28th 2020 by Gallery Books
From "the next major voice in Southern fiction" (Elin Hilderbrand) and the bestselling author of the Peachtree Bluff series comes an odd-couple tale of friendship that asks just how much our past choices define our happiness.
It's summertime on the North Carolina coast and the livin' is easy.
Unless, that is, you've just lost your mother to cancer, your sister to her extremist husband, and your husband to his executive assistant. Meet Gray Howard. Right when Gray could use a serious infusion of good karma in her life, she inadvertently gets a stranger, Diana Harrington, fired from her job at the local pharmacy.
Diana Harrington's summer isn't off to the greatest start either: Hours before losing her job, she broke up with her boyfriend and moved out of their shared house with only a worn-out Impala for a bed. Lucky for her, Gray has an empty guest house and a very guilty conscience.
With Gray's kindness, Diana's tide begins to turn. But when her first love returns, every secret from her past seems to resurface all at once. And, as Gray begins to blaze a new trail, she discovers, with Diana's help, that what she envisioned as her perfect life may not be what she wants at all.
In her warmest, wisest novel yet, Kristy Woodson Harvey delivers a discerning portrait of modern womanhood through two vastly different lenses. Feels Like Falling is a beach bag essential for Harvey fans—and for a new generation of readers.
Parade's 20 Most Anticipated Books of Early 2020
SheKnows' 10 of the Most Anticipated Books Coming in 2020
Mary Kay Andrews' Reading Challenge Women's Fiction Pick
Working Mother's 20 Most Anticipated Books of 2020 for Working Moms
Purchase Feels Like Falling
My thoughts about Feels Like Falling ~~
(I love to note the first lines of the books I'm reading. First lines can really grab a reader's attention and I love seeing where the author takes the reader after their first lines.)
First line—
"I had always been a planner."
I fell in love with Kristy's stories after reading her very first book and I've been a huge fan of hers ever since. I always look forward to reading her newest....and now here it is!
Feels Like Falling is a captivating tale of two very different women, two people who have absolutely nothing in common. Well, other than the fact that they are both struggling and have no one else to lean on. As their unlikely friendship unfolds, we get to watch them learn what is really important, and who they can really rely on.
Kristy's stories just keep getting better and better with each book she writes. I am so excited for her and the release of Feels Like Falling. This is the perfect beach-read book for this summer, even if you don't make it to the beach. Pick it up. Read it. I promise you won't be disappointed—you're going to love it, just like I did!
I received an ARC of Feels Like Falling from the author and this is my honest opinion.

********************
********************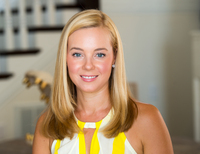 Kristy Woodson Harvey is the bestselling author of Dear Carolina, Lies and Other Acts of Love, Slightly South of Simple, The Secret to Southern Charm, and The Southern Side of Paradise. Kristy is the winner of the Lucy Bramlette Patterson Award for Excellence in Creative Writing, a finalist for the Southern Book Prize, her work has been optioned for film and her books have received numerous accolades.
Harvey is a Phi Beta Kappa, summa cum laude graduate of the University of North Carolina at Chapel Hill's school of journalism and holds a master's in English from East Carolina University, with a concentration in multicultural and transnational literature. Her writing has appeared in numerous publications and websites, including Southern Living, Traditional Home, Parade, USA Today, Domino, Our State and O. Henry. She has been seen in Today.com, Women's Health,The Washington Post, US News and World Report, The Huffington Post,Marie Claire's The Fix, Woman's World, Readers' Digest, Bustle, New York Live and North Carolina Bookwatch, among others.
She is a proud member of the Tall Poppy Writers, serves on the board of Beaufort Historical Association, and is a member of the University of North Carolina's Women's Leadership Council. She is a frequent speaker at fundraisers, book conferences and private events. She lives in North Carolina with her husband and seven-year-old son where she is working on her next novel. ~ Goodreads
**********************
Be sure to check the sidebar for all of my current giveaways!