I have sooooo many books! The Book Spotlight Giveaway feature that I post every Saturday is a way for me to clear my shelves and to share some of the many books I have. This feature is a way for my to cull my collection and to give someone else the opportunity to enjoy these treasures.
****************************
I read and reviewed this book earlier this year. You can read my thoughts
here
. This is a wonderful story full of truth. lies, relationships, and forgiveness. This giveaway is for an ARC and I know you'll really enjoy it.
Good luck and be sure to stop back next week!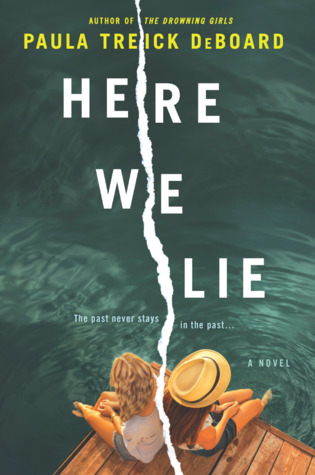 Here We Lie by Paula Treick DeBoard
ARC, 368 pages
Published January 30th 2018 by Park Row
A riveting novel about how the past never stays in the past, from the critically acclaimed author of The Drowning Girls and The Mourning Hours .
Megan Mazeros and Lauren Mabrey are complete opposites on paper. Megan is a girl from a modest Midwest background, and Lauren is the daughter of a senator from an esteemed New England family. But in 1999, Megan and Lauren become college roommates and, as two young women struggling to find their place on campus, they forge a strong, albeit unlikely, friendship. The two quickly become inseparable, sharing clothes, advice and their most intimate secrets.
The summer before their senior year, Megan joins Lauren and her family on their private island off the coast of Maine. The weeks go by, filled with fun and relaxation, until late one night at the end of the vacation, something unspeakable happens, searing through the framework of the girls' friendship and tearing them apart. Many years later, in the midst of a political scandal, Megan finally comes forward about what happened that fateful night, revealing a horrible truth about Lauren's family and threatening to expose their long-buried secrets.
In this captivating and moving novel of domestic suspense, Paula Treick DeBoard explores the power of friendship and secrets and shows how betrayal can lead to disastrous, and deadly, consequences.
Paula Treick DeBoard is a writer, latte drinker and all-around slave to public education. Her first novels—written in the back seat of a 1977 Chevy Caprice station wagon where her parents let her jostle around, unprotected by a seatbelt—were sadly lost in one cross-country move or another.
The Mourning Hours (2013) was her first novel to survive. Paula is also the author of The Fragile World (2014) and The Drowning Girls (April 2016).
She holds a BA in English from Dordt College and an MFA in Fiction from the University of Southern Maine. She breaks up the monotony of staring at her laptop screen for long hours with her teaching commitment as a lecturer in the Merritt Writing Program at the University of California, Merced.
Her heart—and any remaining spare time—belongs to Will and their four-legged brood. ~ Goodreads
******************************
Be sure to check the sidebar for all of my current giveaways!