Happy Release Day!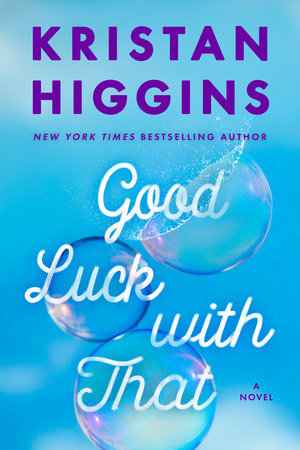 Good Luck with That by Kristan Higgins
Print and e-book, 480 pages
Published August 7th 2018 by Berkley
New York Times
bestselling author Kristan Higgins is beloved for her heartfelt novels filled with humor and wisdom. Now, in her newest novel,
Good Luck with That
, she tackles an issue every woman deals with: body image and self-acceptance.
Emerson, Georgia, and Marley have been best friends ever since they met at a weight-loss camp as teens. When Emerson tragically passes away, she leaves one final wish for her best friends: to conquer the fears they still carry as adults.
For each of them, that means something different. For Marley, it's coming to terms with the survivor's guilt she's carried around since her twin sister's death, which has left her blind to the real chance for romance in her life. For Georgia, it's about learning to stop trying to live up to her mother's and brother's ridiculous standards, and learning to accept the love her ex-husband has tried to give her.
But as Marley and Georgia grow stronger, the real meaning of Emerson's dying wish becomes truly clear: more than anything, she wanted her friends to love themselves.
A novel of compassion and insight,
Good Luck with That
tells the story of two women who learn to embrace themselves just the way they are.
I received an ARC of Good Luck with That from NetGalley in exchange for my honest review.
My thoughts about Good Luck with That ~~
(I love to note the first lines of the books I'm reading. First lines can really grab a reader's attention and I love seeing where the author takes the reader after their first lines.)
First line—"Sixteen years ago. For once, no one was thinking of food. From above, they were just three teenage girls, bobbing in the middle of the clear blue lake, a rowboat drifting lazily nearby as they splashed and laughed."
Three young girls, three friends who accept one another for who they are. But as they grow older, they have a hard time accepting themselves. They aren't happy in their lives and they mistakenly think things will be better once [insert the issue that is troubling each of them].
Good Luck with That is a very thought provoking story about how we view ourselves and our lives, and how we need to accept ourselves as we are and move forward with our lives. Don't put things off until...... it's too late. Be happy the way you are.
This was a very emotional book for me, and yes, there were some tears shed. I think this book will touch a nerve for almost everyone—because aren't most of us constantly striving for that 'perfect' whatever in our lives?
I love these lines—this is the way we should all feel and live. 'It shouldn't have been 'Things to Do When We're Skinny.' It should've just been 'Things to Do.' Such wonderful words to live by.
I received an ARC of Good Luck with That from NetGalley in exchange for my honest review.
Good Luck with That!
About the author
Kristan Higgins is the
New York Times
and internationally bestselling author of more than a dozen novels. Her books have been honored with dozens of awards and accolades, including starred reviews from
Publishers Weekly, Kirkus, Library Journal, the New York Journal of Books
and
Romantic Times
. She is a two-time winner of the RITA award from Romance Writers of America and a five-time nominee for the Kirkus Prize for best work of fiction. She is happily married to a heroic firefighter and the mother of two fine children.