I have sooooo many books! The Book Spotlight Giveaway feature that I post every Saturday is a way for me to clear my shelves and to share some of the many books I have. This feature is a way for my to cull my collection and to give someone else the opportunity to enjoy these treasures.
****************************
I just finished listening to this audio-book and it was so good! Isabel Allende is such a great writer and Ripper is a captivating, very interesting story. And the narrator does an amazing job with the story and all of the characters. I'm excited to share it with one of you.
Good luck and be sure to stop back next week!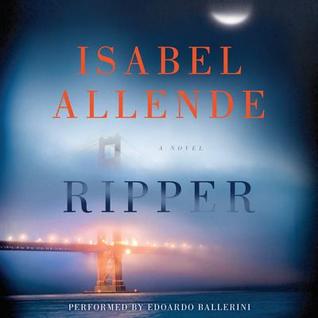 Ripper
Ripper by Isabel Allende
Narrator Edoardo Ballerini
CD audio-book
Published January 28th 2014 by HarperAudio
The Jackson women, Indiana and Amanda, have always had each other. Yet, while their bond is strong, mother and daughter are as different as night and day. Indiana, a beautiful holistic healer, is a free-spirited bohemian. Long divorced from Amanda's father, she's reluctant to settle down with either of the men who want her-Alan, the wealthy scion of one of San Francisco's elite families, and Ryan, an enigmatic, scarred former Navy SEAL.

While her mom looks for the good in people, Amanda is fascinated by the dark side of human nature, like her father, the SFPD's Deputy Chief of Homicide. Brilliant and introverted, the MIT-bound high school senior is a natural-born sleuth addicted to crime novels and Ripper, the online mystery game she plays with her beloved grandfather and friends around the world.

When a string of strange murders occurs across the city, Amanda plunges into her own investigation, discovering, before the police do, that the deaths may be connected. But the case becomes all too personal when Indiana suddenly vanishes. Could her mother's disappearance be linked to the serial killer? Now, with her mother's life on the line, the young detective must solve the most complex mystery she's ever faced before it's too late.
Isabel Allende Llona is a Chilean-American novelist. Allende, who writes in the "magic realism" tradition, is considered one of the first successful women novelists in Latin America. She has written novels based in part on her own experiences, often focusing on the experiences of women, weaving myth and realism together. She has lectured and done extensive book tours and has taught literature at several US colleges. She currently resides in California with her husband. Allende adopted U.S. citizenship in 2003.
Website | Goodreads
|
Facebook |
Twitter
a Rafflecopter giveaway
*********************
Be sure to check the sidebar for all of my current giveaways!