Gone Haunting in Deadwood
Life at the Coffin Joint by Ann Charles and Sam Lucky,
Series: Deadwood Undertaker Series Book 1
e-book, 260 pages (print coming soon!)
Published March 21st 2019 by Ann Charles & Sam Lucky
Deadwood (late 1876) ... A rowdy and reckless undertaker's delight. What better place for a killer to blend in?
Enter undertaker Clementine Johanssen, tall and deadly with a hot temper and short fuse, hired to clean up Deadwood's dead … and the "other" problem. She's hell-bent on poking, sticking, or stabbing anyone that steps out of line.
But when a couple Santa Fe sidewinders ride into town searching for their missing uncle, they land neck deep in lethal gunplay, nasty cutthroats, and endless stinkin' snow. Their search leads them to throw in with Clementine to hunt for a common enemy.
What they find chills them all to the bone and sends them on an adventure they'll never forget.
From the bestselling, multiple award-winning, humorous Deadwood Mystery series comes a new herd of tales set in the same Deadwood stomping grounds, only back in the days when the Old West town was young.
I'm absolutely crazy about Ann's Deadwood mystery series and I'm so excited for this new series, the Deadwood Undertaker Series, which is sort of a spin-off of the first one. It downloaded to my Kindle app this morning and I can't wait to start it! Let the fun times begin!!
*******************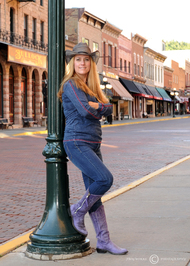 Ann lives in the beautiful Northern Arizona mountains with her clever husband, charming kids, and an incredibly sassy cat. After many years and several colleges, she managed to obtain her Bachelor's Degree in English with an emphasis on creative writing from the University of Washington.
Her books are mixed-genre mysteries full of mayhem and fun, romance and comedy, and whatever else feels right. Sisters in Crime was kind enough to let her join their membership years ago. In addition, she's been a member of Romance Writers of America for so many moons that she's lost count.
Ann has written a bunch of contemporary, award-winning novels in multiple series full of quirky characters with whom she loves to spend time as much as reality allows. Right now, while you're reading this, she's probably frolicking around in another story.
While her reading preferences range from adventure to horror to mystery, ever since she tried on her first training bra, she has loved a good mix of romance, too.
When she's not dabbling in fiction, she's penning writing-themed articles or standing on her workshop soapbox, sharing what she has learned over the years about the writing craft and self-promotion.
*******************************
Be sure to check the sidebar for all of my current giveaways!