The Paper Daughters of Chinatown by Heather B. Moore
Print and e-book, 384 pages
Published September 1st 2020 by Shadow Mountain
Based on true events, The Paper Daughters of Chinatown in a powerful story about a largely unknown chapter in history and the women who emerged as heroes.

In the late nineteenth century, San Francisco is a booming city with a dark side, one in which a powerful underground organization—the criminal tong—buys and sells young Chinese women into prostitution and slavery. These "paper daughters," so called because fake documents gain them entry to America but leave them without legal identity, generally have no recourse. But the Occidental Mission Home for Girls is one bright spot of hope and help.

Told in alternating chapters, this rich narrative follows the stories of young Donaldina Cameron who works in the mission home, and Mei Lien, a "paper daughter" who thinks she is coming to America for an arranged marriage but instead is sold into a life of shame and despair.

Donaldina, a real-life pioneering advocate for social justice, bravely stands up to corrupt officials and violent gangs, helping to win freedom for thousands of Chinese women. Mei Lien endures heartbreak and betrayal in her search for hope, belonging, and love. Their stories merge in this gripping account of the courage and determination that helped shape a new course of women's history in America.
My thoughts about The Paper Daughters of Chinatown ~~
(I love to note the first lines of the books I'm reading. First lines can really grab a reader's attention and I love seeing where the author takes the reader after their first line.)
First line—"Donaldina Cameron leaned her head against the cool glass of the window as the train slowed to a stop, its whistle mimicking the call of a mournful dove—deep and melancholy—a fitting echo of her life over the past few years."

Although this book was tough to read in spots because of the cruelty some people forced on others, it was a very informative, insightful look at a very real part of our history. The author did an amazing job of giving the reader both the heartaches and the joys in the lives of the paperback daughters.
Based on the true life of Donaldina Cameron,
The Paper Daughters of Chinatown is a must-read for anyone interested in the injustices done to Chinese women at that time or in the history of Chinatown in San Francisco in the
late nineteenth century.
Reading about the hard life that
Mei Lien had to endure woven around the wonderful things that Donaldina did for so many women made this a very compelling story.
I received a copy of The Paper Daughters of Chinatown from the publisher via NetGalley and this is my honest opinion.
About the author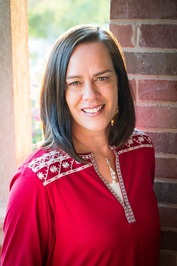 Heather B. Moore is a USA Today bestselling author of more than fifty publications. Her historical novels and thrillers are written under pen name H.B. Moore. She writes women's fiction, romance and inspirational non-fiction under Heather B. Moore. This can all be confusing, so her kids just call her Mom.

Heather attended Cairo American College in Egypt, the Anglican School of Jerusalem in Israel, and earned a Bachelor of Science degree from Brigham Young University in Utah. Heather is represented by Dystel, Goderich, and Bourret. ~ Goodreads