Mistletoe and Wedding Bells by Ashley Farley
Women's Fiction, Christmas, 275 pages
Published October 27, 2020 by Leisure Time Books
Merriment and mayhem collide for a chaotic holiday season at the Inn at Hope Springs Farms.
General manager, Stella Boor, is ready to marry her man and live in the home of her dreams. But she can do neither until she wins permanent custody of her six-year-old half sister, Jazz. Meanwhile, Jazz's mother, Naomi, is determined to make trouble for Stella at every turn. When tension mounts, Stella results to drastic measures in order to protect her baby sister.
Event planner, Presley Ingram, is keeping the ultimate secret. She's planning a surprise wedding for Stella and Jack for Christmas Day. As passion ignites with her new lover, Presley pauses to consider if she's planning Stella's dream wedding. Or her own.
Head chef, Cecily Weber, will wed the love of her life on Christmas Eve. But when her fiancé shows an irresponsible side she's never before seen, Cecily begins to have second doubts. Is she suffering from pre-wedding jitters? Or will she be forced to choose between marriage and the success she's worked so hard to achieve?
Join three intriguing young women in their search for happily ever after.
My thoughts about Mistletoe and Wedding Bells ~~
(I love to note the first lines of the books I'm reading. First lines can really grab a reader's attention and I love seeing where the author takes the reader after their first lines.)
First lines—"The sound of bells ringing in the distance silences the crowd. Families with young children migrate to the edge of the stone terrace, looking out into the inky darkness toward the mountains."
Mistletoe and Wedding Bells is the perfect story to read right now. It's full of Christmas, weddings, friendships, and love. I just finished reading books 1-3 of this amazing series to prepare for book #4, which comes out in January. This was a wonderful way to read these books. I became totally immersed in Stella's life and the interesting world and people of Hope Springs.
Stella unexpectedly
inherits her father's property and we get to watch as she struggles with trying to make it a success. Friends
—
and enemies
—
are made as she pour her heart and soul into the place.
The women of the Hope Spring Inn bond together and help each other through the tough times. It was wonderful watching relationships develop, some for the good and some
—
not so much. I came to feel like I was a part of the group and enjoyed my time at the Inn so much.
I absolutely love this series and highly recommend it. I'm excited for book #4 to hit the shelves!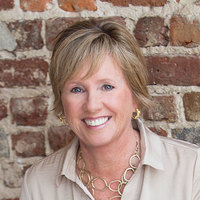 Ashley Farley writes books about women for women. Her characters are mothers, daughters, sisters, and wives facing real-life issues. Her bestselling
Sweeney Sisters
series has touched the lives of many.
Ashley is a wife and mother of two young adult children. While she's lived in Richmond, Virginia for the past 21 years, a piece of her heart remains in the salty marshes of the South Carolina Lowcountry, where she still calls home. Through the eyes of her characters, she captures the moss-draped trees, delectable cuisine, and kindhearted folk with lazy drawls that make the area so unique. For more information, visit
www.ashleyfarley.com
~ Goodreads
Be sure to check the sidebar for my current giveaways!