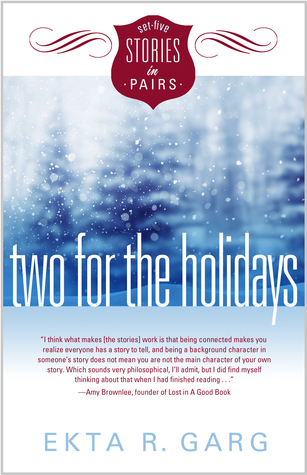 Two for the Holidays by Ekta R. Garg
Series: Stories in Pairs, Set 5
Kindle Edition
Published December 15th 2015 by Prairie Sky Publishing
A medium gets ready for one of the biggest days in her career speaking to the dead. An elf accepts an unusual assignment and faces his past. Two stories about people tied to holiday-themed professions. Two stories about the reality of life's hardships in the last quarter of the year. Two stories for the holidays.
The first story, "Take A Breath": Marisa Bellini has traveled to a tiny town on Halloween to help people contact the dead. She's built an empire on the idea that she can talk to ghosts…but can she really? Sometimes even Marisa isn't sure.
The second story, "The Truth About Elves": Curtis, an elf, sets the record straight. No, elves don't have pointy ears, they aren't three feet tall, and they don't live at the North Pole all year long. When Curtis gets a special assignment from the big man himself, though, he learns that Christmas magic has the power to transform everything he's known for the last decade.
Come spend the holidays with Marisa and Curtis, and join the Stories in Pairs journey!
My thoughts about Two for the Holidays ~~
Two for the Holidays is another great set of stories from Ekta Garg. And I love holiday stories so this was a great read this time of year.
In Take a Breath, Marissa is a woman who contacts the dead for the loved ones left behind. Is she scamming people out of their money, or is she really legit? Sometimes she even doesn't know the answer to that question.
I especially loved The Truth About Elves. I love when authors take a well known story, in this case Santa and his elves, and put their own, very different spin to the usual story. Being an elf in Ekta's world is not at all what we think of when we imagine Santa's elves' lives.
I thoroughly enjoyed reading this set of stories and loved discovering the connection between them. This time it was a little tricky for me to find the connection but when I did, it made both stories so special. I am excited for the next set of stories coming from Ekta so I can learn more about these two great characters.
Since the start of her publishing career in 2005 Ekta has edited and written about everything from health care to home improvement to Hindi films. She has worked for: The Portland Physician Scribe, Portland, Oregon's premier medical newspaper; show magazines for home tours organized by the Portland Home Builders Association;
ABCDlady.com
; The Bollywood Ticket; The International Indian; and the annual anthologies published by the Avondale Inkslingers, based in Avondale, Arizona.
In 2011 Ekta stepped off the ledge and became a freelancer. She edits short stories and novels for other writers, contributing to their writing dreams. She is also a part-time editor for aois21, and she reviews books for her own book review blog as well as NetGalley, TypeReel, and
Bookpleasures.com
.
Prairie Sky Publishing serves as the publishing arm of Ekta's professional writing blog, The Write Edge (
thewriteedge.wordpress.com
). When she's not writing, Ekta is a domestic engineer--known in the vernacular as "a housewife." She's married, has two energetic daughters who keep her running, and she divides her time between keeping house and fulfilling her writing dreams.
Be sure to check the sidebar
for my current giveaways!