The book I am offering this week is my extra copy of The Dovekeepers. We read it for my book club and I ended up with 2 copies. How does that happen? Anyway, everyone loved the story and we had a great discussion. This was the first book by Alice Hoffman that I had read and I was amazed at the number of people who commented that they love her books. How have I never read her before? I really need to take a closer look at her other stories.
Good luck and be sure to stop back next week!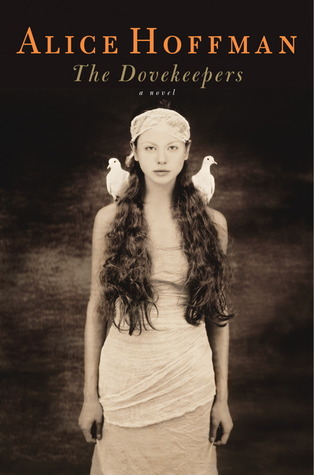 The Dovekeepers by Alice Hoffman
Paperback, 505 pages
Published April 3rd 2012 by Scribner
The Dovekeepers
is Alice Hoffman's most ambitious and mesmerizing novel, a tour de force of research and imagination.
Nearly two thousand years ago, nine hundred Jews held out for months against armies of Romans on Masada, a mountain in the Judean desert. According to the ancient historian Josephus, two women and five children survived. Based on this tragic and iconic event, Hoffman's novel is a spellbinding tale of four extraordinarily bold, resourceful, and sensuous women, each of whom has come to Masada by a different path. Yael's mother died in childbirth, and her father, an expert assassin, never forgave her for that death. Revka, a village baker's wife, watched the murder of her daughter by Roman soldiers; she brings to Masada her young grandsons, rendered mute by what they have witnessed. Aziza is a warrior's daughter, raised as a boy, a fearless rider and expert marksman who finds passion with a fellow soldier. Shirah, born in Alexandria, is wise in the ways of ancient magic and medicine, a woman with uncanny insight and power.
The lives of these four complex and fiercely independent women intersect in the desperate days of the siege. All are dovekeepers, and all are also keeping secrets—about who they are, where they come from, who fathered them, and whom they love.
Alice Hoffman was born in New York City on March 16, 1952 and grew up on Long Island. After graduating from high school in 1969, she attended Adelphi University, from which she received a BA, and then received a Mirrellees Fellowship to the Stanford University Creative Writing Center, which she attended in 1973 and 74, receiving an MA in creative writing. She currently lives in Boston.
Hoffman's first novel,
Property Of
, was written at the age of twenty-one, while she was studying at Stanford, and published shortly thereafter by Farrar Straus and Giroux. She credits her mentor, professor and writer Albert J. Guerard, and his wife, the writer Maclin Bocock Guerard, for helping her to publish her first short story in the magazine
Fictio
n. Editor Ted Solotaroff then contacted her to ask if she had a novel, at which point she quickly began to write what was to become
Property Of
, a section of which was published in Mr. Solotaroff's magazine,
American Review
.
Since that remarkable beginning, Alice Hoffman has become one of our most distinguished novelists. She has published a total of twenty-three novels, three books of short fiction, and eight books for children and young adults. Her novel,
Here on Earth
, an Oprah Book Club choice, was a modern reworking of some of the themes of Emily Bronte's masterpiece
Wuthering Heights
.
Practical Magic
was made into a Warner film starring Sandra Bullock and Nicole Kidman. Her novel,
At Risk
, which concerns a family dealing with AIDS, can be found on the reading lists of many universities, colleges and secondary schools. Hoffman's advance from
Local Girls
, a collection of inter-related fictions about love and loss on Long Island, was donated to help create the Hoffman Breast Center at Mt. Auburn Hospital in Cambridge, MA.
Blackbird House
is a book of stories centering around an old farm on Cape Cod. Hoffman's recent books include
Aquamarine
and
Indigo
, novels for pre-teens, and
The New York Times
bestsellers
The River King
,
Blue Diary
,
The Probable Future
, and
The Ice Queen.
Green Angel,
a post-apocalyptic fairy tale about loss and love, was published by Scholastic and
The Foretelling
, a book about an Amazon girl in the Bronze Age, was published by Little Brown. In 2007 Little Brown published the teen novel Incantation, a story about hidden Jews during the Spanish Inquisition, which
Publishers Weekly
has chosen as one of the best books of the year. Her most recent novels include
The Third Angel
,
The Story Sisters
, the teen novel,
Green Witch
, a sequel to her popular post-apocalyptic fairy tale,
Green Angel
.
The Red Garden
, published in 2011, is a collection of linked fictions about a small town in Massachusetts where a garden holds the secrets of many lives.
Be sure to check the sidebar for my current giveaways!