I have sooooo many books! I have a ton of print books and probably even more e-books. The Book Spotlight Giveaway feature that I post every Saturday is a way for me to clear my shelves and to share some of the many books I have. There are a lot of different reasons that I might be letting some of my books go, the biggest one is that when we moved 2 years ago I discovered how many books I really do have. This feature is a way for my to cull my collection and to give someone else the opportunity to enjoy them.
****************************
This week I have an ARC of
My Sister's Keeper
by Jodi Picoult. I love this story and love everything Jodi has written. I also saw the movie that was made from the book and was totally disappointed in the ending. How can they change it that much from what the author wrote? Anyway, this is an emotional, heart wrenching story and a great read!
Good luck and be sure to stop back next week!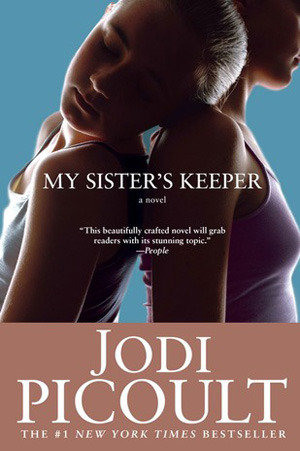 My Sister's Keeper by Jodi Picoult
Advance Reader Copy, 423 pages
Published by Washington Square Press
Anna is not sick, but she might as well be. By age thirteen, she has undergone countless surgeries, transfusions, and shots so that her older sister, Kate, can somehow fight the leukemia that has plagued her since childhood. The product of preimplantation genetic diagnosis, Anna was conceived as a bone marrow match for Kate -- a life and a role that she has never challenged... until now. Like most teenagers, Anna is beginning to question who she truly is. But unlike most teenagers, she has always been defined in terms of her sister—and so Anna makes a decision that for most would be unthinkable, a decision that will tear her family apart and have perhaps fatal consequences for the sister she loves.
A provocative novel that raises some important ethical issues,
My Sister's Keeper
is the story of one family's struggle for survival at all human costs and a stunning parable for all time.
Jodi Picoult is the author of twenty-two novels, including the #1
New York Times
bestsellers
The Storyteller, Lone Wolf, Between the Lines, Sing You Home, House Rules, Handle with Care, Change of Heart, Nineteen Minutes
, and
My Sister's Keeper
. She lives in New Hampshire with her husband and three children.
Be sure to check the sidebar for my current giveaways!