I have sooooo many books! I have a ton of print books and probably even more e-books. The Book Spotlight Giveaway feature that I post every Saturday is a way for me to clear my shelves and to share some of the many books I have. There are a lot of different reasons that I might be letting some of my books go, the biggest one is that when we moved 2 years ago I discovered how many books I really do have. This feature is a way for my to cull my collection and to give someone else the opportunity to enjoy them.
****************************
The book that I am featuring today, One Step Too Far by Tina Seskis, is an ARC that I read for a book tour in December. I really liked the book and you can read my thoughts below.
Good luck and be sure to stop back next week!


One Step Too Far by Tina Seskis
Print and e-book, 304 pages
William Morrow Paperbacks; Reprint edition (December 1, 2015)
An apparently happy marriage. A beautiful family. A dream home. So what makes lawyer Emily Coleman—a woman who appears to have everything—get up one morning and walk right out of her life to start again as someone new?
Deliberately losing herself in London, Emily quickly transforms herself into Cat. Along with her new name, she finds a new home in a shared house in North London teeming with an odd assortment of flatmates, and a new job as a receptionist.
Soon Cat has buried any trace of her old self so well, no one knows how to find her. But she can't bury the past—or her own painful memories. As the days turn to months, thoughts of all she's left behind begin to consume her. She cannot outrun the ghosts that haunt her, no matter how hard she tries to elude them. And soon, she'll have to face the truth of what she's done—a shocking revelation that may push her one step too far. . . .
My thoughts about One Step Too Far ~~
(originally posted December 10, 2015)


From the very first chapter, we learn that Catherine, aka Emily, is running away from something; running away from her family and running away from the only life she knows. We don't know why she is running away and we spend the rest of the story learning how she reinvents herself and how she puts the past behind her.
The not knowing is what drew me into this story. I just had to find out what was so terrible that this woman would give up the man she loved and her treasured little boy as she tried to erase them from her life.
Along the way we met some great characters who become a part of Cat's new life. Some of them are good for her and good to her and then there are others who only bring her down. She quickly learns who she can trust. Cat is a twin and I thought the relationship between Cat and her sister was a very interesting part of the story. They are as different as night and day and the dynamics between them kept the story very interesting.
This was a great read and kept my attention throughout. Like I said, I had to find out what was so bad that Emily felt she had to leave her life and start a new one. And the twists at the end made the overall story very satisfying.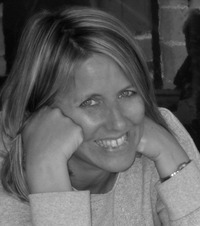 I grew up in Hampshire, England, where my father worked at Heathrow for British Airways and my mother was in sales. My parents bestowed upon me a certain degree of eccentricity: my dad amongst other things built a boat in the front garden on our commuter belt housing estate, moved us into a touring caravan when our new house wasn't built, and took us all over the world with his free air travel and limited budget. I think part of my story-telling is shaped by those experiences.
I studied business at the University of Bath and then worked for over twenty years in marketing, advertising and online sales, with varying degrees of success, before starting to write.
I originally wrote
One Step Too Far
for my mum, whilst attending a local writing class on a Thursday afternoon. I completed my second novel
When We Were Friends
(formerly called
A Serpentine Affair
) in 2011. It took me way longer to finally get the books published, and
One Step Too Far
is now available in over 60 countries.
I live in North London with my husband and son, and currently write full-time(ish). You can follow my daily tribulations with writing, dogs, mice, moths etc on Twitter at
@tinaseskis
or on my
Facebook
page.
Be sure to check the sidebar for my current giveaways!