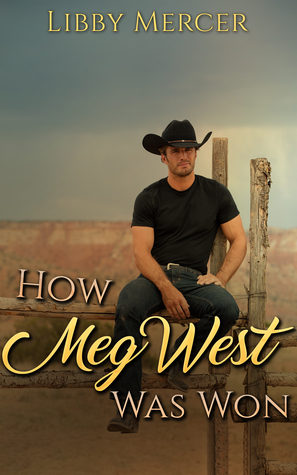 How Meg West Was Won by Libby Mercer
ebook
Published: September 14th 2016
Whoever heard of a white knight showing up in a pair of old, scuffed cowboy boots?
She may be smart as a whip, but Meg West's co-op is in a heap of financial trouble. When sexy and rugged cattle rancher, Dutch Hargrave, makes her a job offer, the vegetarian California girl can't afford to refuse. And quite frankly, she hasn't got the strength to turn down a man with a slow, Texan drawl that makes her toes curl.
Enlisting the help of the feisty bombshell is the answer to Dutch's prayers—and his fantasies. Meg has the professional know-how to help lead his ranch into the 21st Century.
Before long, Meg and Dutch are as busy as a stump-tailed bull in fly season, working around the clock trying to preserve Dutch's heritage. But while the grueling work brings them closer together, the heat on the ranch starts to rise. Will Dutch find a way to win over Meg West while saving his family's farm?
Wednesday, September 14 at 12 PM - 11:59 PM in PDT
My thoughts about How Meg West Was Won ~~
(I love to note the first lines of the books I'm reading. First lines can really grab a reader's attention and I love seeing where the author takes the reader after their first line.)
First line—
'You would never know it looking at her, but Meg West was a certified cat lady.'
I know when I read a Libby Mercer novel that it's going to be a fun time. I got a kick out of just reading the synopsis, so I knew the rest of the book would be very entertaining as well.
Meg and Dutch are as different as two people can be. She's big city gal, he's a rancher. She's a cat person, he's a dog lover. You get the picture. But don't they say that opposites attract?
'Could her West Coast sensibilities really withstand the harsh reality of corporate ranching?'
How Meg West Was Won
is a cute, sweet, very enjoyable story about how two people who seem to have nothing in common come to realize that maybe they have more to like about each other than they thought. It was so much fun watching the two of them figure it all out.
Looks like Libby has another chick-lit hit on her hands. Way to go, Libby!
Read my thoughts about the other
Libby Mercer books I've read.
Wednesday, September 14 at 12 PM - 11:59 PM in PDT
Born and raised in the Heartland of America, Libby Mercer's adventurous spirit kicked in after graduating from high school and she's since lived in Boston, NYC and London. San Francisco is the city that she currently calls home. For several years, Libby worked in fashion -- first as a journalist and then as a shopkeeper, and for a while she dabbled in design.
Fashioning a Romance
was Libby's first published novel, followed by
Unmasking Maya
and
The Karmic Connection
. After taking a break from writing quirky romances to focus on various types of erotic stuff (under various pen names) Libby is back with another rom-com.
How Meg West Was Won
will be released on September 14, 2016.
Be sure to check the sidebar for my current giveaways!