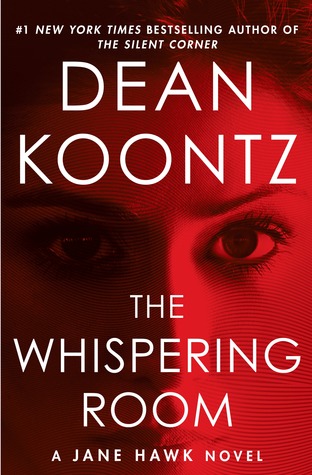 The Whispering Room by Dean Koontz
Series: Jane Hawk, Book #2
Print and e-book, 512 pages
Published November 21st 2017 by Bantam
Jane Hawk--fiction's most relentless, resourceful, stunning new heroine--continues her battle against a murderous conspiracy in the riveting sequel to
The Silent Corner
.
"No time to delay. Do what you were born to do. Fame will be yours when you do this."
These are the words that ring in the mind of mild-mannered, beloved schoolteacher Cora Gundersun--just before she takes her own life, and many others', in a shocking act of carnage. When the disturbing contents of her secret journal are discovered, it seems certain that she must have been insane. But Jane Hawk knows better.
In the wake of her husband's inexplicable suicide--and the equally mysterious deaths of scores of other exemplary individuals--Jane picks up the trail of a secret cabal of powerful players who think themselves above the law and beyond punishment. But these ruthless people bent on hijacking America's future for their own monstrous ends never banked on a highly trained FBI agent willing to go rogue--and become the nation's most wanted fugitive--in order to derail their insidious plans to gain absolute power with a terrifying technological breakthrough.
Driven by love for her lost husband and by fear for the five-year-old son she has sent into hiding, Jane Hawk has become an unstoppable predator. Those she is hunting will have nowhere to run when her shadow falls across them.
My thoughts about The Whispering Room ~~
(I love to note the first lines of the books I'm reading. First lines can really grab a reader's attention and I love seeing where the author takes the reader after their first line.)
First lines—"Cora Gunderson walked through seething fire without being burned, nor did her white dress burst into flames. She was not afraid, but instead exhilarated, and the many admiring people witnessing this spectacle gaped in amazement, their expressions of astonishment flickering with reflections of the flames."

I haven't read a Koontz book in a while and this one reminded me why I love his stories so much. This one grabbed me from the first chapter, with interesting characters, wonderful descriptions, and plenty of action.

Jane is a loving wife and mom but her FBI badass personality comes out big time when her family is threatened.She goes rogue to try to stop the murderous people who took her husband's life and are wreaking havoc using mind control on unsuspecting people.

The Whispering Room is book #2 in this series. I haven't had a chance to read books #1, The Silent Corner, yet but I am definitely going to be. I fell right into book #2 without feeling like I missed anything by not reading the first book. Now I just want to go back and learn the backstory.
Acknowledged as "America's most popular suspense novelist" (
Rolling Stone
) and as one of today's most celebrated and successful writers, Dean Ray Koontz has earned the devotion of millions of readers around the world and the praise of critics everywhere for tales of character, mystery, and adventure that strike to the core of what it means to be human.
Dean R. Koontz has also published under the names
Leigh Nichols
,
Brian Coffey
,
David Axton
,
Owen West
,
Deanna Dwyer
and
Aaron Wolfe
.
Dean, the author of many #1
New York Times
bestsellers, lives in Southern California with his wife, Gerda, their golden retriever, Elsa, and the enduring spirit of their goldens, Trixie and Anna. ~ Goodreads
*************************
Be sure to check the sidebar for all of my current giveaways!