Tess and Tattoos by H.A. Leuschel
Kindle Edition, 59 pages
Published May 30th 2017 by Helene Leuschel Publishing
A suspenseful and emotional novella exploring whether we can ever be free from our past mistakes.
In this story, the reader is taken on a compelling journey into the human mind where genuine friendship offers the key to inner peace.
Meet Tess, an elderly lady living in a care home apartment in the outskirts of Edinburgh, whose past is haunted by a wrong decision. She meets Nurse Sandra, a warm and bubbly single mother of three, who is instantly intrigued by Tess's personality and the mystery that surrounds her.
Tess and Tattoos
is one of five gripping stories in HA Leuschel's story collection
Manipulated Lives
centered around psychological manipulation.
Tess and Tattoos is FREE on Amazon!
My thoughts about Tess and Tattoos~~
(I love to note the first lines of the books I'm reading. First lines can really grab a reader's attention and I love seeing where the author takes the reader after their first line.)
First lines—"From a distance, it looked like any ordinary big house, the roof tiled dark grey and casting the odd blinding shimmer when the sun shone brightly."
First of all, let me say that this cover is very eye catching. Isn't it beautiful? And then the synopsis intrigued me with words like suspenseful, emotional, friendship, inner peace, and psychological. Wow, those words pack quite a punch!
It's always amazing to me how much of a story an author can fit into a 'short story'. There are only just so many pages and words to get the tale told. Helene has done it in Tess and Tattoos. She has created likeable characters and a plot that made me think, with a minimal amount of words.
Tess and Sandra come together as unlikely friends, two people who need each other. And they learn so much about each other in the process. And as we learn, most people and the lives they have lived are not what we think they are. We have assumptions on how someone's life has played out and those assumptions could be wrong.
Tess and Tattoos is just one of the five stories in Leuschel's collection, Manipulated Lives. I loved this one and plan to check out the rest.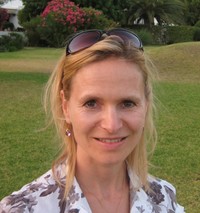 Helene grew up in Belgium where she gained a Licentiate in Journalism & Communication, which led to a career in radio and television in Brussels, London and Edinburgh.
She now lives with her husband and two children in Portugal and recently acquired a Master of Philosophy with the OU, deepening her passion for the study of the mind. When she is not writing, Helene works as a freelance journalist and teaches Yoga.