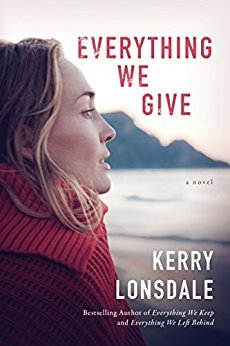 Everything We Give by Kerry Lonsdale
Series: Everything #3
Print and e-book, 300 pages
Published July 3rd 2018 by Lake Union Publishing
From the author of
Everything We Keep
comes the final novel in the Amazon Charts and
Wall Street Journal
bestselling Everything Series. Brimming with suspense, mystery, and romance,
Everything We Give
brings to a powerful close the gripping series of love, lies, and the secrets families keep.
Award-winning photographer Ian Collins made only one mistake in life, but it cost his mother her freedom and destroyed their family, leaving Ian to practically raise himself. For years he's been estranged from his father, and his mother has lived off the grid. For just as long, he has searched for her.
Now, Ian seemingly has it all—national recognition for his photographs; his loving wife, Aimee; and their adoring daughter, Caty. Only two things elude him: a feature in
National Geographic
and finding his mother. When the prized magazine offers him his dream project on the same day that Aimee's ex-fiancé, James, returns bearing a message for Ian but putting a strain on his marriage, Ian must make a choice: chase after a coveted assignment or reconnect with a mysterious woman who might hold the key to putting his past to rest. But the stakes are high, because Ian could lose the one thing he holds most dear: his family.
Everything We Give!
I've read all three books in this series and I loved them all! The characters became real to me and became people I cared about. I highly recommend this series!! You will not be disappointed.
Read my thoughts about book one and book two
************************
About the author
Amazon Charts, Wall Street Journal, and #1 Amazon Kindle bestselling author Kerry Lonsdale writes standalone and series based emotionally charged domestic drama, family suspense, and women's fiction. Her books are sold worldwide in more than 25 countries and are being translated into 22 languages (and counting).
Co-founder of the Women's Fiction Writers Association, an international organization that boasts over 1,000 writers, Kerry resides in Northern California with her husband, two children, two naughty kitties, and an aging Golden Retriever convinced she's still a puppy.
Connect with Kerry
Website
|
Facebook
|
Twitter
|
Goodreads
Be sure to check the sidebar for my current giveaways!