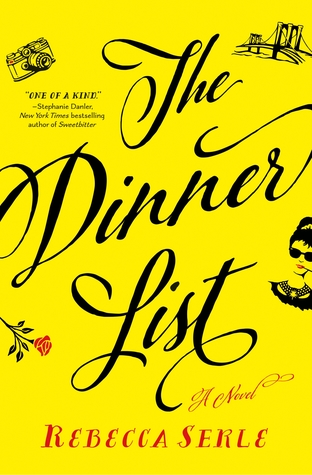 The Dinner List
The Dinner List by Rebecca Serle
Print and ebook, 288 pages
Published September 11th 2018 by Flatiron Books
For fans of
Me Before You
and
One Day
comes a wondrous novel of first love, loss, and the dinner of a lifetime.
When Sabrina Nielsen arrives at her thirtieth birthday dinner she finds at the table not just her best friend, but also her favorite professor from college, her father, her ex-fiance, Tobias, and Audrey Hepburn.
At one point or another, we've all been asked to name five people, living or dead, with whom we'd like to have dinner. Why do we choose the people we do? And what if that dinner was to actually happen? These are the questions Sabrina contends with in Rebecca Serle's utterly captivating novel, The Dinner List, a story imbued with the same delightful magical realism as Sliding Doors, and The Rosie Project.
As the appetizers are served, wine poured, and dinner table conversation begins, it becomes clear that there's a reason these six people have been gathered together, and as Rebecca Serle masterfully traces Sabrina's love affair with Tobias and her coming of age in New York City, The Dinner List grapples with the definition of romance, the expectations of love, and how we navigate our way through it to happiness. Oh, and of course, wisdom from Audrey Hepburn.
Delicious but never indulgent, sweet with just the right amount of bitter, The Dinner List is a modern romance for our times. Bon appetit.
(I love to note the first lines of the books I'm reading. First lines can really grab a reader's attention and I love seeing where the author takes the reader after their first lines.)
First line—"'We've been waiting for an hour.' That's what Audrey says. She states it with a little bit of an edge, her words just bordering on cursive. That's the thing I think first. Not Audrey Hepburn is at my birthday party but Audrey Hepburn is annoyed."
I really didn't know what to expect when I started this book. I didn't know much about the book and Rebecca Serle was a new-to-me author. That being said, I thoroughly enjoyed the story. Haven't we all seen or been asked the question—'If you could invite 5 people to a dinner party, living or dead, who would they be?'
Well, we get dropped right into Sabrina's dinner party and as the night goes on we learn so much about her life, her loves, and her disappointments. The Dinner List was a very enjoyable escape, filled with great characters—such wise people seated around the table—helping Sabrina navigate through her past and her future on her 30th birthday.
This was a quick, very satisfying read for me, one that made me stop and think about the 5 people I would invite to dinner. (That just may be a topic for another post some day.) Now that Rebecca is no longer a new-to-me author, I'll be checking out some of her other books.
I received a copy of The Dinner List from Flatiron Books via The Girlfriend in exchange for my honest review.
The Dinner List!
About the author
Rebecca Serle is an author and television writer who lives between New York and Los Angeles. Serle most recently co-developed the hit TV adaptation of her young adult series
Famous in Love
, now on Freeform. She loves Nancy Meyers films, bathrobes, and giving unsolicited advice on love. She can be found on twitter: @RebeccaASerle
~ Goodreads