Happy Release Day!!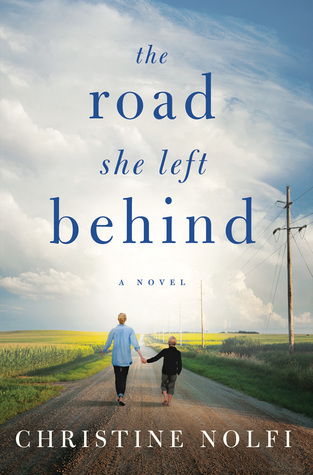 Congrats Christine
on the release today of
The Road She Left Behind!
The Road She Left Behind by Christine Nolfi
Print and e-book, 316 pages
Published June 11th 2019 by Lake Union Publishin
Three women. Two families torn apart by secrets.

Crushed by guilt over the car accident that killed her father and sister, and torn apart by her mother's resentment, Darcy Goodridge fled her family estate eight years ago and hasn't looked back. Now an unexpected phone call threatens to upend what little serenity she's found. Her nephew, Emerson, who was just a baby when his mother died, has gone missing. Darcy must return home and face her past in order to save him.

Once back in Ohio, Darcy realizes there's more to Emerson's disappearance—and to the sudden retirement of her mother, Rosalind—than meets the eye. As she works to make inroads with Rosalind, Darcy begins to unravel a decades-old secret that devastated her family and forced a wedge between her and Michael Varano, the man she left heartbroken when she vanished after the funeral. After carrying the scars of that fateful night for almost a decade, Darcy is determined to find closure, healing, and maybe even love where she lost them all in the first place—right back home where she belongs.
My thoughts about The Road She Left Behind~~
(I love to note the first lines of the books I'm reading. First lines can really grab a reader's attention and I love seeing where the author takes the reader after their first line.)
First lines—"The harbor cruise had developed into a kidnapping. Slipping past the revelers, Darcy inched toward the relative privacy of the boat's lower deck. She was the hostage."

The Road She Left Behind just blew me away. Such a great story—such turmoil and emotions. Darcy is running away from her past, running for eight years. Then all of sudden, she gets pulled back to the life that she was running to avoid.

There are so many secrets and lies from the past, things that cannot be forgiven—until they need to be in order for life to move on. The relationships and drama between the characters is what intrigued me about this story. Everyone and everything is so intertwined that figuring it all out is what drove me to keep turning the pages.

The story has amazing, strong, and interesting characters—characters who fight, support, and love each other. I loved the interactions between Rosalind, the staunch, upstanding judge, and her eight year old grandson, who is truly wise beyond his years.

I was excited to start reading The Road She Left Behind and was sad when I got to the last page. I wasn't ready to be done with this adventure and my time in this wonderful story. This is definitely a book that you are going to want to read as soon as possible.

"The things you own don't bring happiness."


I received a copy of The Road She Left Behind via NetGalley and this is my honest opinion of the book.


Some writers are gifted with an unusual life and I'm certainly one of those. I've lived in Ohio, Virginia, California, Utah and now South Carolina. In college I was featured on the front page of the Houston Post for a lark that erased all my debt. I met my four adopted children for the first time in the sweltering heat of the tropics. I helped build several companies and was lucky enough to earn a living doing what I love best–writing–in a PR firm I owned.
In 2004 I made the wisest and most irrational decision of my life–I began writing fiction full-time. All those years of hard work pay off daily in sweet notes and comments by readers. Please continue the mail, tweets and comments on FaceBook, GoodReads and other sites. I cherish your support and love chatting with readers. ~ Goodreads
Website
|
Goodreads
|
Facebook
|
Twitter
****************************
Be sure to check the sidebar for all of my current giveaways!