Feral-LY Funny Freakshow by Ann Charles
Series: AC Silly Circus Mystery Series Book 1
Kindle Edition, 89 pages
Published September 13th 2018 by Ann Charles
It's all fun and games at the circus ... until everyone's favorite clown winds up dead.
Someone killed Clint the Clown.
Madam Electra's crystal ball could help find the murderer, but she risks exposing her own secrets in the process. Secrets that could land her on the endangered species list.
Head security officer Bruno Maska has been ordered to enlist the help of the one person he suspects is hiding something—Electra. The same woman who's been haunting his thoughts since their drunken night together.
With the killer still on the prowl, can Bruno and Electra get their act together before the Freakiest Show on Earth loses another clown? Or worse, its beloved psychic?
From the AC Silly Circus Co. comes the first story in a new series of paranormal romantic mystery novellas chock-full of oddball shapeshifters, dangerous secrets, and loads of laughs.
Step right up and enjoy the
Feral-LY Funny Freakshow
!
My thoughts about Feral-ly Funny Freakshow ~~
(I love to note the first lines of the books I'm reading. First lines can really grab a reader's attention and I love seeing where the author takes the reader after their first line.)
First line—"My life was one, big, fun freakshow until someone killed my favorite clown."
Ann Charles is one of my favorite, must-read authors. That being said, I was a little hesitant about reading this one—it sounded a little out there for me and very different from what I usually read.
I don't know why I had any doubts though. As usual, Ann delivered another very entertaining and fun page-turner. I love her other books and I don't know why I thought this one was going to hit me any other way. I discovered she can write anything and I'm going to love it!
I love her originality and sense of humor and it carries over into all of her stories. I'm ready for more of this fabulous series! I just snagged it for
FREE
and will be reading it on my upcoming vacation. Let the fun begin!
**********************************
And...... for a limited time—you can get book #2
A Bunch of Monkey Malarkey for FREE!!!
As well as 13 other fun, paranormal beach reads.
Check it out!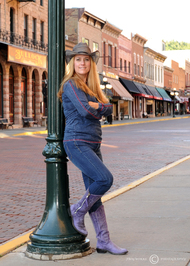 Ann lives in the beautiful Northern Arizona mountains with her clever husband, charming kids, and an incredibly sassy cat. After many years and several colleges, she managed to obtain her Bachelor's Degree in English with an emphasis on creative writing from the University of Washington.
Her books are mixed-genre mysteries full of mayhem and fun, romance and comedy, and whatever else feels right. Sisters in Crime was kind enough to let her join their membership years ago. In addition, she's been a member of Romance Writers of America for so many moons that she's lost count.
Ann has written a bunch of contemporary, award-winning novels in multiple series full of quirky characters with whom she loves to spend time as much as reality allows. Right now, while you're reading this, she's probably frolicking around in another story.
While her reading preferences range from adventure to horror to mystery, ever since she tried on her first training bra, she has loved a good mix of romance, too.
When she's not dabbling in fiction, she's penning writing-themed articles or standing on her workshop soapbox, sharing what she has learned over the years about the writing craft and self-promotion.
*******************************
Be sure to check the sidebar for all of my current giveaways!