I have sooooo many books! The Book Spotlight Giveaway feature that I post every Saturday is a way for me to clear my shelves and to share some of the many books I have. This feature is a way for my to cull my collection and to give someone else the opportunity to enjoy these treasures.
****************************
This week, I have a copy of The Secret Diamond Sisters by Michelle Madow. I read and reviewed this book in 2014 and loved it! It was wonderful to escape into the rich world of these sisters. You can read my thoughts here.
Good luck and be sure to stop back next week!
The Secret Diamond Sisters
The Secret Diamond Sisters by Michelle Madow
Series: The Secret Diamond Sisters #1
Paperback, 382 pages
Published February 25th 2014 by Harlequin Teen
Three sisters. One billionaire father. What could go wrong?
Savannah. Courtney. Peyton.
The three sisters grew up not knowing their father and not quite catching a break. But it looks like their luck is about to change when they find out the secret identity of their long-lost dad -- a billionaire Las Vegas hotel owner who wants them to come live in a gorgeous penthouse hotel suite.
Suddenly the Strip's most exclusive clubs are all-access, and with an unlimited credit card each, it should be easier than ever to fit right in. But in a town full of secrets and illusion, fitting in is nothing compared to finding out the truth about their past.
About the author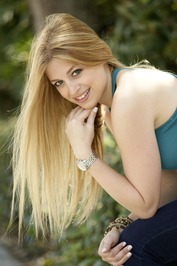 Michelle Madow is a USA Today bestselling author of fast paced fantasy novels that will leave you turning the pages wanting more!

She grew up in Maryland and now lives in Florida. Some of her favorite things are: reading, traveling, pizza, time travel, Broadway musicals, and spending time with friends and family. Someday, she hopes to travel the world for a year on a cruise ship. ~ Goodreads
a Rafflecopter giveaway
******************************
Be sure to check the sidebar for all of my current giveaways!