Catawampus Christmas Carol
Catawampus Christmas Carol by Ann Charles and Sam LuckySeries: Deadwood Undertaker Series Book 3.5Published November 30, 2020 by Ann Charles & Sam Lucky
*Catawampus (adj.): 1.) Fierce, savage 2.) Askew, awry
It's a cold and snowy Christmas Eve in the rowdy mining town of Deadwood in the Dakota Territory. Rather than enjoy some drinks in front of a warm fire with her friends, contracted Slayer Clementine Johanssen has her horse saddled and weapons packed to head out into the hills and hunt down some deadly scallywags—alone. When her friends catch wind of her intentions, they set out to waylay her long enough to change her way of thinking … in spite of her mule-headedness.
Reminiscent of Dickens' A Christmas Carol, this catawampus tale will add a heartening dose of fun and camaraderie to your holiday!
Note: This is book 3.5 of the Deadwood Undertaker Series
*(Merriam-Webster Dictionary)
* * * * *
From the bestselling, multiple award-winning, humorous Deadwood Mystery series comes a new herd of tales set in the same Deadwood stomping grounds, only back in the days when the Old West town was young.
Find the rest of the series
HERE
on Goodreads.
My thoughts about
A
Catawampus Christmas Carol ~~
(I love to note the first lines of the books I'm reading. First lines can really grab a reader's attention and I love seeing where the author takes the reader after their first lines.)
First line—"Once upon a time ... Actually it was Christmas Eve, 1876 in the rough and tumble mining town of Deadwood (Dakota Territory) but anyway ..."
Are you like me and like things that are a bit unusual? A little off the wall? Well, I've got the perfect Christmas story for you!
Catawampus Christmas Carol is not your ordinary holiday read but it was such a fun treat. Reading a book set in the old west of Deadwood and centering around an executioner sounds like the perfect way to spend the days before Christmas, don't you think? It really is a fun, feel-good story that will have you laughing out loud at the character's shenanigan's.
I love Ann Charles and her Deadwood mystery series! And I love these new wacky characters that she and Sam Lucky have introduced us to in this Undertaker series. Each book just gets better and better.
And I'll leave you with one last, very important word - Prudence! 😉 💕
*******************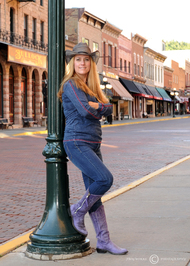 Ann Charles is a USA Today Bestselling author who writes award-winning mysteries that are splashed with humor, romance, paranormal, and whatever else sounds fun. A member of Sisters in Crime and Western Writers of America, she has a B.A. in English with an emphasis on creative writing from the University of Washington.
When Ann is not holed up in her writing lair working on her next book, she's hanging out with her family and basking in the Arizona sunshine. ~ Author website
Sam Lucky likes to build things--from Jeep engines to Old West buildings to fun stories. When he is not writing, feeding his kids, attempting to seduce his wife, or tending the goldurn cats, he is planning food-based booksigning/road trips with his wife and working on one of his many home-improvement projects.
He writes the Deadwood Undertaker Series with Ann Charles. The first book is called Life at the Coffin Joint, available now. ~ Amazon
*******************************
Be sure to check the sidebar for all of my current giveaways!