The Slow March of Light by Heather B. Moore
Historical Fiction, 368 pages
Published September 7, 2021 by Shadow Mountain Publishing
Sometimes all you have is hope.
In the summer of 1961, a wall of barbed wire goes up quickly in the dead of night, officially dividing Berlin. Aware of the many whose families have been divided, Luisa joins a secret spy network, risking her life to help East Germans escape across the Berlin Wall and into the West.
Bob Inama, a soldier in the US Army, is stationed in West Germany. He's glad to be fluent in German, especially after meeting Luisa Voigt at a church social. As they spend time together, they form a close connection. But when Bob receives classified orders to leave for undercover work immediately, he doesn't get the chance to say goodbye.
With a fake identity, Bob's special assignment is to be a spy embedded in East Germany, identifying possible targets for the US military. But Soviet and East German spies, the secret police, and Stasi informants are everywhere, and the danger of being caught and sent to a brutal East German prison lurks on every corner.
Best-selling author Heather B. Moore masterfully alternates the stories of Bob and Luisa, capturing the human drama unique to Cold War Germany was well as the courage and the resilience of the human spirit. 
My thoughts about The Slow March of Light ~~
(I love to note the first lines of the books I'm reading. First lines can really grab a reader's attention and I love seeing where the author takes the reader after their first line.)
First line—"December 1959. The words from the hymn 'We Are All Enlisted' echoed in Bob's mind as he drove through the gray afternoon that promised snow."
The Slow March of Light
is a very informative story about something I didn't know a whole lot about. Focusing on the time that the wall went up in Berlin, we learn about that time from the point of view of a US serviceman called upon to do some espionage work and the women he befriends in Germany.
Both Bob and
Luisa
are put in danger as they try to get though life and fulfill their missions. What a scary time that was and I admire what the people did and sacrificed for others. I learned so much about this time period and am in awe of the stamina and determination that they had.
Heather had done an amazing job of taking such a hard, disturbing time in history and personalizing it so that we can understand and empathize with what people went though. The fact that this story is based on true events and a real person, Bob
Inama, makes it even more astonishing.
I highly recommend
The Slow March of Light
if you are at all interested in German history and the fall-out from the war on the country and it's people.
About the author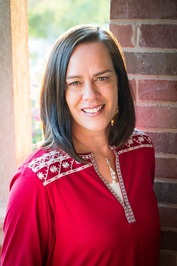 Heather B. Moore is a USA Today bestselling author of more than fifty publications. Her historical novels and thrillers are written under pen name H.B. Moore. She writes women's fiction, romance and inspirational non-fiction under Heather B. Moore. This can all be confusing, so her kids just call her Mom.

Heather attended Cairo American College in Egypt, the Anglican School of Jerusalem in Israel, and earned a Bachelor of Science degree from Brigham Young University in Utah. Heather is represented by Dystel, Goderich, and Bourret. ~ Goodreads
Be sure to check the sidebar for all of my current giveaways!