Happy Release Day!!
On My Terms!
On My Terms by Ashley Farley
Mystery Romance, 214 pages
Published October 26, 2021 by AHF Publishing
Jolie Hogan likes coffee black, panties lacy, and tequila neat. She's a cop, turned journalist, turned private investigator. People say she's ballsy. Truth is, her courage is a recklessness that stems from her troubled past.
Jolie is currently in a mess of trouble. She's been set up for murder by a powerful criminal attorney. The murder victims are the attorney's wife and Jolie's husband, Lucas. Jolie will do whatever it takes to clear her name. Including selling her soul to the devil. In Jolie's case, the devil is a wickedly hot detective who brings the past back to haunt her.
My thoughts about On My Terms ~~
(I love to note the first lines of the books I'm reading. First lines can really grab a reader's attention and I love seeing where the author takes the reader after their first lines.)
First lines—"Rain pounds the roof of my parked car as I watch for activity at the two-story brick home across the street. A bolt of lightning brightens the night sky, illuminating the other stately homes on the block."
This story grabbed me from the first chapter! There was a lot going on and I immediately got drawn into the drama. And being familiar with Ashley's storytelling, I knew this was going to be a story that would be full of memorable characters, plenty of emotion, and tons of wonderfulness. I was not disappointed.
Jolie goes through so much, right from the get-go and as things escalate, she learns who has her back, who she can trust... and who is out to get her. There were some heart wrenching scenes but those were balanced out with plenty of love, compassion, and forgiveness. It was beautiful watching the people who loved Jolie gather around her when she needed them the most.
On My Terms is very different from Ashley's usual writings—more action and suspense—but I love the way she told the story and the direction she took with it. I have loved all of Ashley's stories and this is now one of my favorites. I highly recommend it!
Thank you to Ashley Farley the ARC of On My Terms. This is my honest opinion of the book.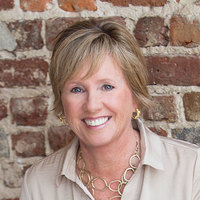 Ashley Farley writes books about women for women. Her characters are mothers, daughters, sisters, and wives facing real-life issues. Her bestselling
Sweeney Sisters
series has touched the lives of many.
Ashley is a wife and mother of two young adult children. While she's lived in Richmond, Virginia for the past 21 years, a piece of her heart remains in the salty marshes of the South Carolina Lowcountry, where she still calls home. Through the eyes of her characters, she captures the moss-draped trees, delectable cuisine, and kindhearted folk with lazy drawls that make the area so unique. For more information, visit
www.ashleyfarley.com
~ Goodreads
Be sure to check the sidebar for my current giveaways!