White Sand, Blue Sea: A St. Barts Love Story
by Anita Hughes
Print and ebook, 288 pages
Published: April 11th 2017 by St. Martin's Griffin
Olivia Miller is standing on the porch of her mother and stepfather's plantation style villa in St. Barts. They have been coming here every April for years but she is always thrilled to see the horseshoe shaped bay of Gustavia and white sand of Gouverneur's Beach. This trip should be particularly exciting because she is celebrating her twenty-fifth birthday and hoping that Finn, her boyfriend of four years, will propose.
The only person who won't be here is her father, Sebastian, who she hasn't seen in twenty years. He's a well-known artist and crisscrosses the globe, painting and living in exotic locations like Kenya and China. When Sebastian walks unexpectedly walks through the door and floats back into Olivia's life like a piece of bad driftwood she never knew she wanted, she starts to wondering if her world is too narrow. She questions the dreams and the relationship she's always thought she wanted. But there seems to be more to the story than an innocent fatherly visit, and Olivia must decide if love is more important than truth.
Set on St. Barts, the jewel of the Caribbean,
White Sand, Blue Sea
is a heartwarming story about romance and adventure, and most importantly, about knowing yourself, and what makes you happy.
on the release of her fabulous new novel,
I read an ARC of this book and I loved it.
You can read my thoughts here.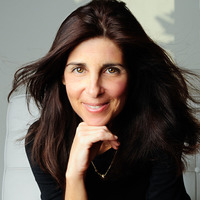 Anita Hughes was born in Sydney, Australia and had a charmed childhood that included petting koala bears, riding the waves on Bondi Beach, and putting an occasional shrimp on the barbie. Her writing career began at the age of eight, when she won a national writing contest in The Australian newspaper, and was named "One of Australia's Next Best Writers." (She still has the newspaper clipping.)
She received a B.A. in English Literature with a minor in Creative Writing from Bard College, and attended UC Berkeley's Masters in Creative Writing program.
Her debut novel Monarch Beach was released in June 2012, followed by Market Street and Lake Como in 2013. French Coast and Rome in Love were released in 2015.
Island in the Sea: A Majorca LoveStory and Santorini Sunsets and her first holiday novel, Christmas in Paris, were released in 2016.
White Sand, Blue Seas: A St Barts Love Story is coming on April 11th, 2017, followed by Emerald Coast on August 1st, 2017 and Christmas in London on October 3rd, 2017.
She lives in Dana Point, CA with her family, where she interrupts her writing to watch the glorious sunsets.
***********************


Be sure to check the sidebar for all of my current giveaways!