Slightly South of Simple
Slightly South of Simple by Kristy Woodson Harvey
Paperback and ebook, 400 pages
Expected publication: April 25th 2017 by Gallery Books
Caroline Murphy swore she'd never set foot back in the small Southern town of Peachtree Bluff; she was a New York girl born and bred and the worst day of her life was when, in the wake of her father's death, her mother selfishly forced her to move—during her senior year of high school, no less—back to that hick-infested rat trap where she'd spent her childhood summers. But now that her marriage to a New York high society heir has fallen apart in a very public, very embarrassing fashion, a pregnant Caroline decides to escape the gossipmongers with her nine-year-old daughter and head home to her mother, Ansley.
Ansley has always put her three daughters first, especially when she found out that her late husband, despite what he had always promised, left her with next to nothing. Now the proud owner of a charming waterfront design business and finally standing on her own two feet, Ansley welcomes Caroline and her brood back with open arms. But when her second daughter Sloane, whose military husband is overseas, and youngest daughter and successful actress Emerson join the fray, Ansley begins to feel like the piece of herself she had finally found might be slipping from her grasp. Even more discomfiting, when someone from her past reappears in Ansley's life, the secret she's harbored from her daughters their entire lives might finally be forced into the open.\
Exploring the powerful bonds between sisters and mothers and daughters, this engaging novel is filled with Southern charm, emotional drama, and plenty of heart.
(I love to note the first lines of the books I'm reading. First lines can really grab a reader's attention and I love seeing where the author takes the reader after their first lines.)
First line—"I still have dreams about that yellow-and-white-striped bikini, the one I was wearing the night I met Jack, my first bona fide summer love. I was fifteen going on sixteen, the perfect age, when your hair tints that summer blond that hairstylists become superstars for emulating."
I know when I start a novel by Kristy Woodson Harvey that I am going to be transported to another fabulous world, one that I will not want to leave. Slightly South of Simple is full of interesting characters and that wonderful southern charm that Kristy does so well.
I was hooked from the first paragraph, as I knew I would be, and I loved the story more and more as I turned each page. Slightly South of Simple is a story of family, sisters, and love, all kinds of love; old loves and new loves, deep love and heartbreaking love.
Oh, and secrets. Always secrets. Secrets that need to be revealed so that healing can happen. As each sister heads home to Peachtree Bluff and their mother, their safe place, they realize that there is nothing more important than family.
I am so excited that there will be more stories from Peachtree Bluff. I loved my visit there and I can't wait to go back.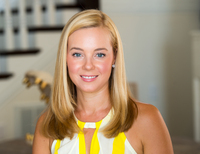 Kristy Woodson Harvey is the author of Dear Carolina. She blogs at Design Chic about how creating a beautiful home can be the catalyst for creating a beautiful life and loves connecting with readers at kristywoodonsharvey.com. She is a graduate of the University of North Carolina at Chapel Hill's school of journalism and holds a Master's in English from East Carolina University. She is a regular contributor for The Salisbury Post, Domino magazine and Houzz. She lives in North Carolina with her husband and three-year-old son.
Blog
|
Goodreads
|
Design Chic
**********************
Be sure to check the sidebar for my current giveaways!