I have sooooo many books! The Book Spotlight Giveaway feature that I post every Saturday is a way for me to clear my shelves and to share some of the many books I have. This feature is a way for my to cull my collection and to give someone else the opportunity to enjoy these treasures.
****************************
I love this series! I recently listened to my first audio-book of this series and I loved the narrator. I'm thinking I just may listen to all of them from now on.
Indulgence in Death
is book #31 is the series and the author just released book #44,
Echoes in Death
, with more coming in the near future. I have some major catching up to do but that's one thing I love about this series, I can just drop in anytime and I still enjoy it.
If you haven't read this series, you really should give it a try.
Good luck and be sure to stop back next week!
Indulgence in Death

Indulgence in Death (In Death #31)
by J.D. Robb (Goodreads Author), Susan Ericksen (Narrator)
Audio CD, Unabridged, 13 pages
Published November 2nd 2010 by Brilliance Audio
When a murder disrupts the Irish vacation she is taking with her husband, Roarke, Eve realizes that no place is safe—not an Irish wood or the streets of the manic city she calls home. But nothing prepares her for what she discovers upon her return to the cop shop in New York City....

A driver for a top-of-the-line limousine service is found dead—shot through the neck with a crossbow. The car was booked by an executive at a venerable security company whose identity had been stolen. Days later, a stunning, high-priced escort is found killed at Coney Island, a bayonet stuck in her heart. And again, the trail leads to a CEO whose information has been hijacked.

With a method established, but no motive to be found, Eve begins to fear that she has come across that most dangerous of criminals, a thrill killer, but one with a taste for the finer things in life—and death. Eve does not know where or when the next kill will be, or that her investigation will take her to the rarefied circle that Roarke travels in—and into the perverted heart of madness....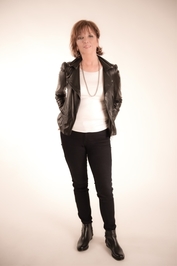 J.D. Robb is the author of the #1 New York Times bestselling In Death series and the pseudonym for #1 New York Times bestselling author Nora Roberts. The futuristic suspense series stars Eve Dallas, a New York City police lieutenant with a dark past. Initially conceived as a trilogy, readers clamored for more of Eve and the mysterious Roarke. Echoes in Death, on sale February 2017, is the 44th entry in the series.
******************************
a Rafflecopter giveaway
Be sure to check the sidebar for all of my current giveaway
s!