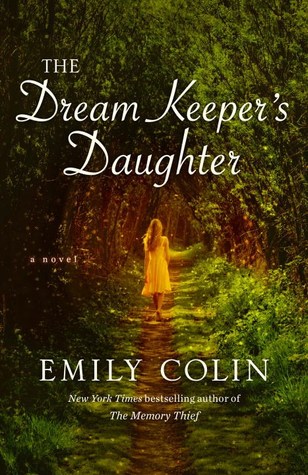 The Dream Keeper's Daughter
The Dream Keeper's Daughter by Emily Colin
Print and e-book, 482 pages
Published July 25th 2017 by Ballantine Books
An archaeologist discovers her presumed-missing boyfriend is trapped more than a hundred years in the past—a love story that transcends time and place, from the author of the New York Times bestseller The Memory Thief.
Eight years after the unsolved disappearance of her boyfriend Max Adair, archaeologist Isabel Griffin has managed to move on and rebuild her life with her young daughter, Finn, her last tie to Max. But after a series of strange incidents, Isabel begins to wonder if Max might still be alive somewhere, trying to communicate with her.
She has no idea that the where isn't the problem—it's the when. Max has slipped through time and place, landing on his ancestral family plantation in 1816 Barbados, on the eve of a historic slave uprising. As Isabel searches for answers, Max must figure out not only how to survive the violence to come, but how to get back to his own century, the woman he loves, and the daughter he has only ever met in his dreams.
My thoughts about The Dream Keeper's Daughter ~~
(I love to note the first lines of the books I'm reading. First lines can really grab a reader's attention and I love seeing where the author takes the reader after their first lines.)
First line—
"I am on my knees, the sun beating on my back and dirt from long-dead bones sifting through my gloved fingers, when my cellphone rings. Focused as I am on the dig, the phone's shrill summons startles me."
The Dream Keeper's Daughter
is a captivating story that crosses so many different genres types. There is something for everyone here: time travel, historical fiction, women's fiction, and a bit of romance. I have to admit that I felt a little daunted by this book after seeing the number of pages. It is usually more than I tackle but once I read the first few pages, I was totally hooked.
I have always been intrigued by the idea of time travel and this author does a wonderful job making it work. I was kept guessing as to how it would all come together. Would Max be able to get back to his loved ones? And how would what he did in the past, affect those in the future.
Max lands in an extremely tough time, when men and women are being slaved and beaten. It was so hard for him to witness the pain and suffering that humans caused other humans. It really is hard for me to comprehend too.
I am always amazed at the amount of research that an author does when writing their books. For one, they have to get the history part right. And then, especially in the case of time traveling, they have to make sure all the pieces end up fitting together.
The Dream Keeper's Daughter
really is an amazing story. I was totally engrossed in both the past and the present storylines. It was wonderful to see how the stories came together in the end.
I received a copy of
The Dream Keeper's Daughter
from
JKS Communications
in exchange for my honest opinion.
************************
Emily Colin's debut novel,
The Memory Thief
, has been a
New York Times
bestseller and a Target Emerging Authors Pick. Her diverse life experience includes organizing a Coney Island tattoo and piercing show, hauling fish at the Dolphin Research Center in the Florida Keys, roaming New York City as an itinerant teenage violinist, helping launch two small publishing companies, and serving as the associate director of
DREAMS of Wilmington
, a nonprofit dedicated to immersing youth in need in the arts. Originally from Brooklyn, she lives in Wilmington, NC with her family.
Emily is excited to share that she has a second novel,
The Dream Keeper's Daughter
, upcoming from Ballantine Books in July 2017. She loves chocolate, is addicted to tiramisu, and dislikes anything containing beans.
Be sure to check the sidebar for my current giveaways!