I have sooooo many books! The Book Spotlight Giveaway feature that I post every Saturday is a way for me to clear my shelves and to share some of the many books I have. This feature is a way for my to cull my collection and to give someone else the opportunity to enjoy these treasures.
****************************
This week I am offering a book that has been on my bookshelves for a long time. It's time to let someone else have a chance to read it.
Good luck and be sure to stop back next week!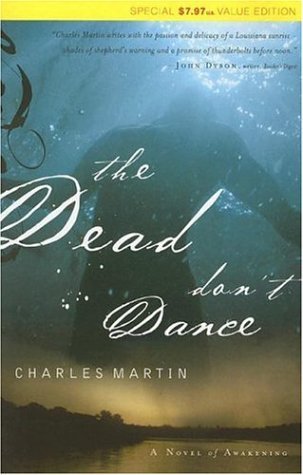 The Dead Don't Dance

The Dead Don't Dance by Charles Martin
Series: Awakening #1
Paperback, 320 pages
Published May 28th 2006 by Thomas Nelson
A sleepy rural town in South Carolina. The end of summer and a baby about to be born. But in the midst of hope and celebration comes unexpected tragedy, and Dylan Styles must come to terms with how much he's lost. Will the music of his heart be stilled forever—or will he choose to dance with life once more, in spite of sorrow and heartbreak?
The Dead Don't Dance
is a bittersweet yet triumphant love story—a tale of one man's spiritual journey through the darkness of despair and into the light of hope.
Christy and I married in 1993. If you include dating, I've known and loved her for more than half my life. She is and always will be the home for my heart. We have three boys. Charlie, John T. and Rives. Folks often ask me, which of my books do I like the best. You might as well line up my sons and ask me who I love the most.
My hobbies are bow hunting, working out (a blend of old school stuff and martial arts, called Fight Fit) and Tae Kwon Do. In October 2012 I earned my black belt but I'm still the least flexible person you've ever met. The guy that trains me, laughs everytime I start warming up. My boys are far better at Tae Kwon Do than I but I doubt they have as much fun – I get to do and watch. They just do.
I also like to write, but that's another story. ~ Author's website

******************************
Be sure to check the sidebar for all of my current giveaways!