I have sooooo many books! The Book Spotlight Giveaway feature that I post every Saturday is a way for me to clear my shelves and to share some of the many books I have. This feature is a way for my to cull my collection and to give someone else the opportunity to enjoy these treasures.
****************************
The book this week is one I got from a friend's collection. Elinor was one of her favorite authors. I haven't read this one but our book club did read
The Inn at Lake Devine
at one time. It was great and I'm sure this one is too.
Good luck and be sure to stop back next week!
The Dearly Departed by Elinor Lipman
Hardcover, 288 pages
Published July 17th 2001 by Random House


Everyone in King George, New Hampshire, loved Margaret Batten, part-time amateur actress, full-time wallflower, and single mother to a now-distant daughter, Sunny. But accidents happen. The death of Margaret, side by side with her putative fiance, brings Sunny back to the scene of her unhappy adolescence, to the community that remembers her solely, nervously, as "the girl who golfed." Reentry is to be dreaded; there's no hiding in a town with one diner, one doctor, one stop sign, one motel.

Yet allies surface: The country club opens its doors to its former Orphan Annie caddie. High school classmates, even the tormentors, have grown up nicely, matured in unforeseen and gratifying ways. Maybe, Sunny begins to think, she wasn't as beleaguered as she felt she was; maybe her mother's life was richer than anyone suspected; and maybe the man at the funeral-the one with her face, her flyaway hair, her golf swing-is the halfbrother she doesn't know she needs.

Elinor Lipman writes with the wry authority of a latter-day Jane Austen. The Dearly Departed is another perfect blend of social comedy, pointed wit, and precise pacing from our last urbane romantic.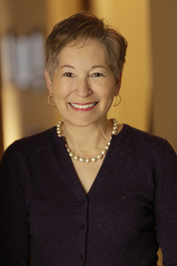 Elinor Lipman is the author of 11 humorous novels about contemporary American society; essay and short story collections, and a book of rhyming political tweets.. Born and raised in Lowell, Massachusetts, she graduated from Simmons College where she studied journalism. She lives in Manhattan, and received the New England Book award for fiction in 2001.
Her first novel,
Then She Found Me
, was adapted for the screen, starring Helen Hunt, Bette Midler, Colin Firth and Matthew Broderick. Her fourth novel,
The Inn at Lake Devine
was adapted for the off-off Broadway stage by Tongue in Cheek Theater. In 2011-2012, she held the Elizabeth Drew chair in creative writing at Smith College. ~ Goodreads
******************************
Be sure to check the sidebar for all of my current giveaways!