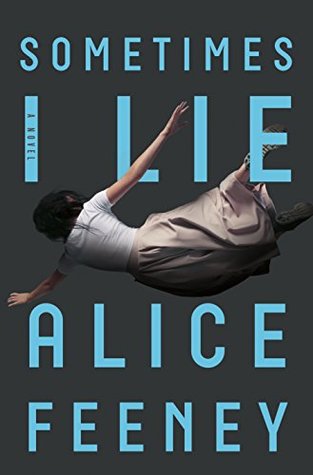 Sometimes I Lie by Alice Feeney
Print and e-book, 272 pages
Published March 13th 2018 by Flatiron Books
My name is Amber Reynolds. There are three things you should know about me:
1. I'm in a coma.
2. My husband doesn't love me anymore.
3. Sometimes I lie.
Amber wakes up in a hospital. She can't move. She can't speak. She can't open her eyes. She can hear everyone around her, but they have no idea. Amber doesn't remember what happened, but she has a suspicion her husband had something to do with it.
Alternating between her paralyzed present, the week before her accident, and a series of childhood diaries from twenty years ago, this brilliant psychological thriller asks: Is something really a lie if you believe it's the truth?
My thoughts about Sometimes I Lie ~~
(I love to note the first lines of the books I'm reading. First lines can really grab a reader's attention and I love seeing where the author takes the reader after their first lines.)
First line
—"I'm always delighted in the free fall between sleep and wakefulness. Those precious semiconscious seconds before you open your eyes, when you catch yourself believing that your dreams might just be your reality."
Sometimes I Lie
had me questioning everything I read between the covers of this book. Right from the beginning we know that the main character sometimes lies. So I found myself constantly trying to figure what was a lie and what was the truth.
And I was pretty much left in the dark until the very end. I love when a book can do that for me, keep me hanging as long as possible and then making me doubt everything I believed about what I just read. I typically don't reread books but I'm thinking this is one that I will, just to see if I can pick up those clues to the truth now that I know the lies.

I received an ARC of this book from Flatiron Books via NetGalley and am voluntarily reviewing it.


Alice Feeney is a writer and journalist. She spent 16 years at the BBC, where she worked as a Reporter, News Editor, Arts and Entertainment Producer and One O'clock News Producer.
Alice has lived in London and Sydney and has now settled in the Surrey countryside, where she lives with her dog - a giant black Labrador who is scared of feathers.
Sometimes I Lie
is her debut thriller and is being published around the world. ~ Goodreads
***********************


Be sure to check the sidebar for all of my current giveaways!