I have sooooo many books! The Book Spotlight Giveaway feature that I post every Saturday is a way for me to clear my shelves and to share some of the many books I have. This feature is a way for my to cull my collection and to give someone else the opportunity to enjoy these treasures.
****************************
This book is one that our book club read several years ago. We had a very engaging discussion that night. You can read my thoughts
here
. (Posted on February 2, 2012). I received my friend's copy and I'm going to share it with one of you. Anna's books are always so good!
Good luck and be sure to stop back next week!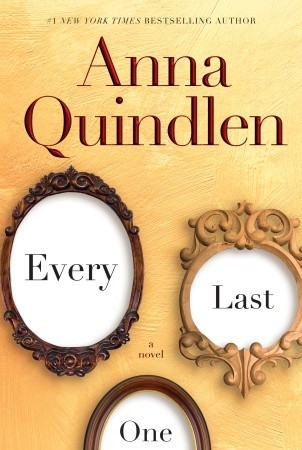 Every Last One by Anna Quindlen
Hardcover, 299 pages
Published April 13th 2010 by Random House


In this breathtaking and beautiful novel, the #1 New York Times bestselling author Anna Quindlen creates an unforgettable portrait of a mother, a father, a family, and the explosive, violent consequences of what seem like inconsequential actions.

Mary Beth Latham has built her life around her family, around caring for her three teenage children and preserving the rituals of their daily life. When one of her sons becomes depressed, Mary Beth focuses on him, only to be blindsided by a shocking act of violence. What happens afterwards is a testament to the power of a woman's love and determination, and to the invisible lines of hope and healing that connect one human being with another.

Ultimately, as rendered in Anna Quindlen's mesmerizing prose, Every Last One is a novel about facing every last one of the things we fear most, about finding ways to navigate a road we never intended to travel, and about living a life we never dreamed we'd have to live, but find ourselves brave enough to try.
Anna Quindlen is a novelist and journalist whose work has appeared on fiction, nonfiction, and self-help bestseller lists. She is the author of eight novels: Object Lessons, One True Thing, Black and Blue, Blessings, Rise and Shine, Every Last One, Still Life with Bread Crumbs, and Miller's Valley.
Her memoir Lots of Candles, Plenty of Cake, published in 2012, was a number one New York Times bestseller. Her book A Short Guide to a Happy Life has sold more than a million copies.

While a columnist at The New York Times she won the Pulitzer Prize and published two collections, Living Out Loud and Thinking Out Loud. Her Newsweek columns were collected in Loud and Clear. ~ Goodreads
******************************
Be sure to check the sidebar for all of my current giveaways!