I have sooooo many books! The Book Spotlight Giveaway feature that I post every Saturday is a way for me to clear my shelves, to share some of the many books I have, and to give someone else the opportunity to enjoy these treasures.
This week I have book #3 in the delightful Peachtree Bluff series by Kristy Woodson Harvey. I love this series and have an extra copy of this one to entice you to read them all. You can read my thought
HERE
and find the whole series on Goodreads
HERE
.
The Southern Side of Paradise
The Southern Side of Paradise by Kristy Woodson Harvey
(Peachtree Bluff #3)
by Kristy Woodson Harvey
Paperback, 387 pages
Published May 7th 2019 by Gallery Books
From author Kristy Woodson Harvey comes the third novel in her Peachtree Bluff series, in which a secret threatens the tight-knit bond between a trio of sisters and their mother.

With the man of her dreams back in her life and all three of her daughters happy, Ansley Murphy should be content. But she can't help but feel like it's all a little too good to be true.

Meanwhile, youngest daughter and actress Emerson, who is recently engaged and has just landed the role of a lifetime, seemingly has the world by the tail. Only, something she can't quite put her finger on is worrying her—and it has nothing to do with her recent health scare.

When two new women arrive in Peachtree Bluff—one who has the potential to wreck Ansley's happiness and one who could tear Emerson's world apart—everything is put in perspective. And after secrets that were never meant to be told come to light, the powerful bond between the Murphy sisters and their mother comes crumbling down, testing their devotion to each other and forcing them to evaluate the meaning of family.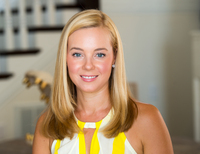 Kristy Woodson Harvey is the bestselling author of Dear Carolina, Lies and Other Acts of Love, Slightly South of Simple, The Secret to Southern Charm, and The Southern Side of Paradise. Kristy is the winner of the Lucy Bramlette Patterson Award for Excellence in Creative Writing, a finalist for the Southern Book Prize, her work has been optioned for film and her books have received numerous awards.
Harvey is a Phi Beta Kappa, summa cum laude graduate of the University of North Carolina at Chapel Hill's school of journalism and holds a master's in English from East Carolina University, with a concentration in multicultural and transnational literature. Her writing has appeared in numerous publications and websites, including Southern Living, Traditional Home, Parade, USA Today, Domino, Our State and O. Henry. She has been seen in Today.com, Women's Health,The Washington Post, US News and World Report, The Huffington Post,Marie Claire's The Fix, Woman's World, Readers' Digest, Bustle, New York Live and North Carolina Bookwatch, among others.
She is a proud member of the Tall Poppy Writers, serves on the board of Beaufort Historical Association, and is a member of the University of North Carolina's Women's Leadership Council. She is a frequent speaker at fundraisers, book conferences and private events. She lives in North Carolina with her husband and seven-year-old son where she is working on her next novel.
******************************
Be sure to check the sidebar for all of my current giveaways!