The Southern Side of Paradise!
The Southern Side of Paradise by Kristy Woodson Harvey
Peachtree Bluff Series #3
Print and e-book, 400 pages
Expected publication: May 7th 2019 by Gallery Books
From internationally bestselling author and "rising star of Southern fiction" (Mary Alice Monroe, New York Times bestselling author) Kristy Woodson Harvey comes the third novel in her Peachtree Bluff series, in which a secret threatens the tight-knit bond between a trio of sisters and their mother.
With the man of her dreams back in her life and all three of her daughters happy, Ansley Murphy should be content. But she can't help but feel like it's all a little too good to be true.
Meanwhile, youngest daughter and actress Emerson, who is recently engaged and has just landed the role of a lifetime, seemingly has the world by the tail. Only, something she can't quite put her finger on is worrying her—and it has nothing to do with her recent health scare.
When two new women arrive in Peachtree Bluff—one who has the potential to wreck Ansley's happiness and one who could tear Emerson's world apart—everything is put in perspective. And after secrets that were never meant to be told come to light, the powerful bond between the Murphy sisters and their mother comes crumbling down, testing their devotion to each other and forcing them to evaluate the meaning of family.
My thoughts about The Southern Side of Paradise ~~
(I love to note the first lines of the books I'm reading. First lines can really grab a reader's attention and I love seeing where the author takes the reader after their first lines.)
First line—
"Growing up, I didn't like surprises. Not surprise parties, not presents. Even losing a tooth was steeped in horror, as I couldn't stand the idea of some tiny Tinkerbell sneaking under my pillow unannounced."
I love, love, love the Peachtree Series! Each book has transported me to the Southern community of Peachtree Bluff and into the Murphy family's lives.
There are three books in this series (so far–wink, wink, Kristy) and I love how each book focuses on one of the three sisters. All of their lives are intertwined, of course, so we do get to catch up in all of their lives but I do enjoy getting to know a little bit more about the one.
As with all of Kristy's stories,
The Southern Side of Paradise
is full of drama, humor, family conflict, and family love and support, when it matters. And it always matters, right? That's what family is all about—love and support.
I've read all of Kristy's books, starting back when her very first book came out, and I immediately fell in love with her and her wonderful stories. She is one of my 'drop everything and read' authors when she has a new book coming out. Her books are Southern fiction at its best!
Give this series a try and I guarantee you will fall in love with Peachtree Bluff and the Murphy's just like I did.
I received an ARC of The Southern Side of Paradise from the author via NetGalley in exchange for my honest opinion.
Purchase The Southern Side of Paradise
For signed copies call South Main Book Co: (704) 630-9788
The Peachtree Bluff Series
Read my thoughts about books 1 and 2.
Southern Living's 25 Beach Reads Perfect for Summer
Parade's 12 Big Fiction Reads Every Book Club Will Love in 2019
NetGalley's Must-Read Women's Fiction
Bookbub's The Most Anticipated Book Club Books of Spring 2019
Get Literary's Best New Reads to Add to Your Summer 2019 TBR
BookBub's 21 Sunny Books for a Rainy Day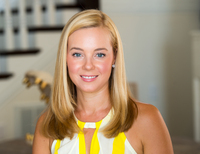 Kristy Woodson Harvey is the bestselling author of Dear Carolina, Lies and Other Acts of Love, Slightly South of Simple, The Secret to Southern Charm, and the forthcoming The Southern Side of Paradise. Kristy was a finalist for the Southern Book Prize, her work has been optioned for film and her books have received numerous accolades.
**********************
Be sure to check the sidebar for all of my current giveaways!