Happy Release Day!!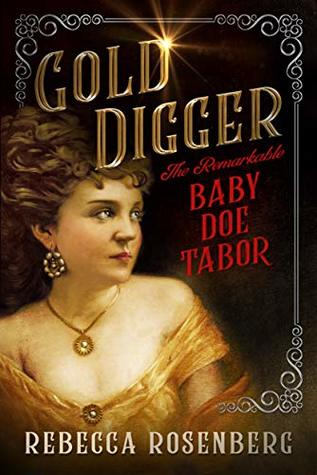 Congrats Rebecca
on the release today of
Gold Digger!
Gold Digger: The Remarkable Baby Doe Tabor by Rebecca Rosenberg
Print and e-book, 290 pages
Published May 28th 2019 by Lion Heart Publishing
One look at Baby Doe and you know she was meant to be a legend! She was just twenty years old when she came to Colorado to work a gold mine with her new husband. Little did she expect that she'd be abandoned and pregnant and left to manage the gold mine alone. But that didn't stop her!

She moved to Leadville and fell in love with a married prospector, twice her age. Horace Tabor struck the biggest silver vein in history, divorced his wife and married Baby Doe. Though his new wife was known for her beauty, her fashion, and even her philanthropy, she was never welcomed in polite society.

Discover how the Tabors navigated the worlds of wealth, power, politics, and scandal in the wild days of western mining.
I loved this story and my trip back to the Old West. Baby Doe Tabor was an fascinating woman. Read my thoughts about this wonderful book here.
California native Rebecca Rosenberg lives on a lavender farm with her family in Sonoma, the Valley of the Moon, where she and her husband founded the largest lavender product company in America. A long-time student of Jack London's work and an avid fan of his daring wife, Charmian, Rosenberg is a graduate of the Stanford Writing Certificate Program.

Her books include: Gold Digger, the Remarkable Baby Doe Tabor, The Secret Life of Mrs. London, Lavender Fields of America, and the Champagne Widows series (2020). ~ Amazon