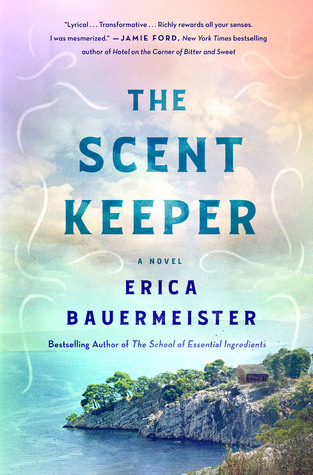 The Scent Keeper!
The Scent Keeper by Erica Bauermeister
Print and e-book, 320 pages
Published May 21st 2019 by St. Martin's Press
Erica Bauermeister, the national bestselling author of The School of Essential Ingredients, presents a moving and evocative coming-of-age novel about childhood stories, families lost and found, and how a fragrance conjures memories capable of shaping the course of our lives.
Emmeline lives an enchanted childhood on a remote island with her father, who teaches her about the natural world through her senses. What he won't explain are the mysterious scents stored in the drawers that line the walls of their cabin, or the origin of the machine that creates them. As Emmeline grows, however, so too does her curiosity, until one day the unforeseen happens, and Emmeline is vaulted out into the real world--a place of love, betrayal, ambition, and revenge. To understand her past, Emmeline must unlock the clues to her identity, a quest that challenges the limits of her heart and imagination.
Lyrical and immersive,
The Scent Keeper
explores the provocative beauty of scent, the way it can reveal hidden truths, lead us to the person we seek, and even help us find our way back home.
Purchase The Scent Keeper
I read this wonderful book and posted my thoughts a few days ago. You can read them here. Scroll on down the page and be sure to enter the giveaway for a chance to win a copy!
About the author
Erica Bauermeister is the author of the bestselling novel The School of Essential Ingredients, Joy for Beginners, and The Lost Art of Mixing. She is also the co-author of the non-fiction works, 500 Great Books by Women: A Reader's Guide and Let's Hear It For the Girls: 375 Great Books for Readers 2-14. She has a PhD in literature from the University of Washington, and has taught there and at Antioch University. She is a founding member of the Seattle7Writers and currently lives in Port Townsend, Washington.
Connect with Erica
Website
|
Facebook
|
Goodreads
|
Instagram
Be sure to check the sidebar for my current giveaways!