Happy Release Day!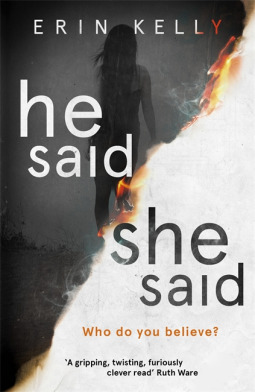 He Said/She Said
He Said/She Said by Erin Kelly
Print and e-book, 400 pages
Published: June 6th 2017 by Minotaur Books
In the hushed aftermath of a total eclipse, Laura witnesses a brutal attack. She and her boyfriend Kit call the police, and in that moment, it is not only the victim's life that is changed forever. Fifteen years on, Laura and Kit live in fear, and while Laura knows she was right to speak out, the events that follow have taught her that you can never see the whole picture: something, and someone, is always in the dark.
My thoughts about He Said/She Said ~~
(I love to note the first lines of the books I'm reading. First lines can really grab a reader's attention and I love seeing where the author takes the reader after their first lines.)
First line—"We stand side by side in front of the speckled mirror. Our reflections avoid eye contact. Like me, she is wearing black and like mine, her clothes have clearly been chosen with care and respect."

Wow! Just wow. He Said/She Said is a novel that is so full of twists and turns that my head was spinning. And like the title implies, you get to the point where you really don't know who to believe.

The story starts with a scene outside of a courtroom, so we know from the start that something is going to happen that will involve the law, lawyers, and the court system. Then the reader gets to take a step back and relax a little bit as the story starts to unfold.

He Said/She Said is full of secrets and people who have kept terrible secrets from their friends and loved ones. Once you start finding out the scope of these secrets, your mind will be blown.

Erin Kelly is a new-to-me author but I loved this book so much I am definitely going to be checking out her other books.
I received an ARC of He Said/She Said from Minotaur Books in exchange for my honest opinion.
Erin Kelly was born in London in 1976 and grew up in Essex. She read English at Warwick University and has been working as a journalist since 1998.
She has written for newspapers including the
The Sunday Times, The Sunday Telegraph, the Daily Mail
and the
Express
and magazines including
Red, Psychologies, Marie Claire, Elle
and
Cosmopolitan
.
*****************************
Be sure to check the sidebar for all of my current giveaways!