Destination Wedding by Deanna Lynn Sletten
Narrator Aundrea Mitchell
Audible Audio, 5 hours and 27 minutes
Published April 20th 2017 by Deanna Lynn Sletten
Life is full of surprises…
Claire Martin's life is perfect, or at least she tells herself it is. She owns a successful clothing boutique, has a steady, dependable boyfriend, and a beautiful grown daughter who is about to be married. Sure, Claire's husband of twenty years left her for a younger woman four years ago, but that is all in the past. Now, Claire is looking forward to her daughter's Bahama wedding and spending a week in paradise. The only thing Claire dreads is her ex-husband and his wife will also be on the island. Claire is determined to make the best of it, though. What Claire doesn't realize is ignoring her ex-husband for the week is going to be impossible.
James Martin's life is a mess. His wife of less than four years has made him the most miserable man on earth and now they are in the middle of a messy divorce. He's happy that he can forget her for a week as he goes off to the Bahamas to attend his lovely daughter's wedding. Jim is embarrassed to admit to his daughter and his ex-wife, Claire, that he made the biggest mistake of his life when he left her for another woman, so he makes up a story as to why his new wife didn't come along. When he and Claire are unexpectedly forced upon each other, Jim soon realizes what he's lost and he begins to wonder if he can find a way back into Claire's heart.
My thoughts about Destination Wedding (audio) ~~
(I love to note the first lines of the books I'm reading. First lines can really grab a reader's attention and I love seeing where the author takes the reader after their first lines.)
First lines—"Clare Martin discreetly glanced at her watch with one eye as she watched her customer with the other turn this way and that in front of the three-way mirror. Clare had to be out of the shop in five minutes or else she'd be late meeting with her daughter, and she didn't want to be late. Today was important."
I just love Deanna's books and I have gradually been 're-reading' them by listening to them on audio. Destination Wedding is a wonderful story about love, lost love, and rekindled love.
This was the first audiobook that I have listened to by this narrator. It took me a little bit to get used to her intonation and speaking mannerisms, but once I got settled into the story, it was very enjoyable.
Below, you can read my thoughts about Destination Wedding, which I originally posted on May 7, 2014.
I am always so excited when Deanna has a new book out. I know I am going to be taken away on a wondrous, emotional journey. In Destination Wedding we get to travel to the Bahamas and experience the sun, sand, and surf.
'No setting could have been more perfect for a wedding celebration.'
But then, on the flip side, we also get to experience all the drama that goes with a wedding; glitches in the plans, divorced parents trying to be civil to each other, and getting to know the new in-laws. You know the divorced couple is going to have a hard time getting along as they try to put their past hurts behind them. But can they?
'The grass hadn't been greener on the other side. In fact, it had been brown, prickly, and downright nasty.'
I love the settings in all of Deanna's books. She writes so beautifully and with so much description that I feel like I am there with her characters, enjoy the scenery as much as they are. One spot in the book in particular that I loved was when Claire enters her room at the hotel and sees it for the first time. I felt like I was looking at that beautiful room just as Clare was seeing it.
Destination Wedding is the perfect book for reading this time of year. This is the wedding season, is it not? And how can you go wrong with a book set in the Bahamas? Deanna has done it again, writing another fabulous story, with wonderful characters, and a great setting! I loved my little escape to the beach!
***************************
And be on the lookout for Deanna's newest book,
It releases June 20th and I loved it!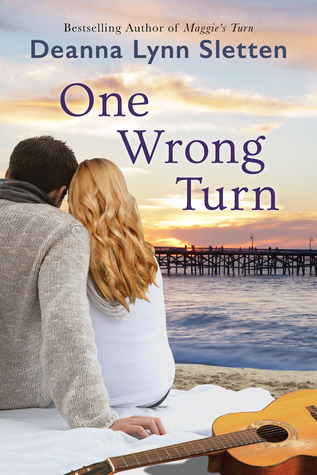 Ends June 20th so hurry!!
Deanna Lynn Sletten writes women's fiction and romance novels that dig deeply into the lives of the characters, giving the reader an in-depth look into their hearts and souls. She has also written one middle-grade novel that takes you on the adventure of a lifetime.
Deanna's romance novel,
Memories
, was a semifinalist in The Kindle Book Review's Best Indie Books of 2012. Her novel,
Sara's Promise
, was a semifinalist in The Kindle Book Review's Best Indie Books of 2013 and a finalist in the 2013 National Indie Excellence Book Awards.
Deanna is married and has two grown children. When not writing, she enjoys walking the wooded trails around her northern Minnesota home with her beautiful Australian Shepherd or relaxing in the boat on the lake in the summer.