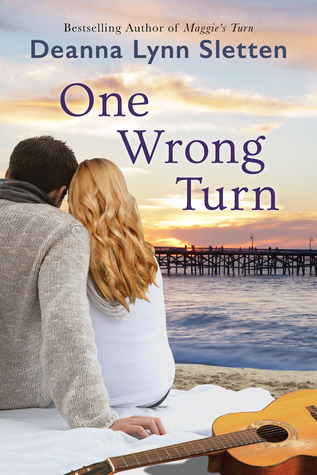 One Wrong Turn: A Novel by Deanna Lynn Sletten
Paperback and e-book, 204 pages
Published: June 20th 2017 by Lake Union Publishing
Author Deanna Lynn Sletten returns with an unforgettable novel about one man's crisis of self and his greatest act of love.
The words "I'm her husband" roll off Clay Connors's tongue, but with his estranged wife lying in a coma—and no assurance that she'll awaken—he knows he's perilously close to losing everything. A singular, terrifying accident has left Jess Connors suspended between life and death. Now Clay is reunited with the family he hasn't seen for two years, including the daughters he left behind.
Clay should have been there for his family. He never should have stayed away so long. The alcohol that took over his life destroyed everything but a shred of his self-preservation. Sober and haunted, Clay revisits the memory of love, marriage, and how his life unraveled. He hopes that by trying to reconnect with the daughter who blames him and the daughter who barely knew him, he can find a light of hope in this darkest hour. As his family faces its most grueling, emotional test yet, Clay must summon the courage to make right what was wrong—and find forgiveness from his harshest judge: himself.
Congrats Deanna on the release today of
One Wrong Turn!
I have been a huge fan of Deanna's since the very first book of her's that I read. I met her virtually on a blog tour when I read Memories in 2012. I have read everything she has written since then and she is one of my 'drop everything and read' authors. As soon as I get one of her books in my hands—look out—nothing else will get done until I finish it!
After years of being a virtual friend of Deanna's, I finally was able to meet her in person two years ago. We met for lunch and the time just flew, I felt like I had known her forever!
Deanna and me ~ September 2015
I am so excited for One Wrong Turn to get out into the world. Not only is the cover stunning, the beautiful story inside is one you won't soon forget.
Deanna Lynn Sletten writes heartwarming women's fiction and romance novels with unforgettable characters. She has also written one middle-grade novel that takes you on the adventure of a lifetime. She began her writing career self-publishing in 2012 and has since published several novels. Her next novel will be published in June 2017 by Lake Union Publishing. Deanna believes in fate, destiny, love at first sight, soul mates, second chances, and happily ever after, and her novels reflect that.

Deanna is married and has two grown children. When not writing, she enjoys walking the wooded trails around her home with her beautiful Australian Shepherd or relaxing in the boat on the lake in the summer.
Website
|
Blog
|
Facebook
|
Goodreads
|
Twitter
Enter to win a $25 Amazon Gift Card!
Click here to read my thoughts
and enter the giveaway!
*********************
Be sure to check the sidebar for my current giveaways!