Fatal Traditions: A Short Story from the Deadwood Humorous Mystery Series
by Ann Charles
Deadwood Shorts Book 5
Paperback and e-book, 128 pages
Published October 1st 2019 by Ann Charles
There's a real trick to catching a soul-stealing Hungarian devil made of shadow and smoke.
Unfortunately, Violet Parker doesn't know what that trick is and her aunt's life depends on her figuring it out. But killing is an old family tradition for her ... or rather a fatal tradition.
My thoughts about Fatal Traditions ~~
(I love to note the first lines of the books I'm reading. First lines can really grab a reader's attention and I love seeing where the author takes the reader after their first line.)
First line—
"As badass killers went, most days I couldn't drive a nail into a coffin with a sledgehammer."
I absolutely love this series! The characters that Ann Charles has created and woven into this hilarious mystery series are unique, memorable, quirky, and lovable. I am truly amazed at the story-lines this author comes up with as she pits her characters against the evils of another world—and sometimes against each other. I love all of the characters in this series and enjoy dropping back into Deadwood to visit them again. Life is never dull in Violet's world, that's for sure.
I particularly love these shorts that Ann comes out with periodically. First of all, they feed my craving for more until she releases the next book in the series, but I also enjoy how we get a taste of some of the side stories that live outside the normal series. They are great bridges in Violet's world while also satisfying my Deadwood addiction.
*******************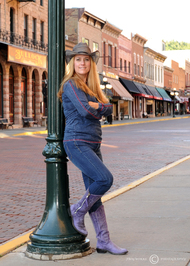 Ann lives in the beautiful Northern Arizona mountains with her clever husband, charming kids, and an incredibly sassy cat. After many years and several colleges, she managed to obtain her Bachelor's Degree in English with an emphasis on creative writing from the University of Washington.
Her books are mixed-genre mysteries full of mayhem and fun, romance and comedy, and whatever else feels right. Sisters in Crime was kind enough to let her join their membership years ago. In addition, she's been a member of Romance Writers of America for so many moons that she's lost count.
Ann has written a bunch of contemporary, award-winning novels in multiple series full of quirky characters with whom she loves to spend time as much as reality allows. Right now, while you're reading this, she's probably frolicking around in another story.
While her reading preferences range from adventure to horror to mystery, ever since she tried on her first training bra, she has loved a good mix of romance, too.
When she's not dabbling in fiction, she's penning writing-themed articles or standing on her workshop soapbox, sharing what she has learned over the years about the writing craft and self-promotion.
*******************************
Be sure to check the sidebar for all of my current giveaways!