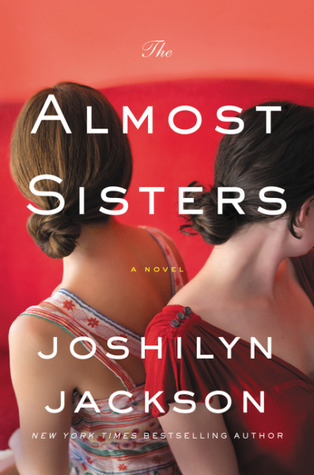 The Almost Sisters by Joshilyn Jackson
Print and e-book, 352 pages
Published July 11th 2017 by William Morrow
With empathy, grace, humor, and piercing insight, the author of gods in Alabama pens a powerful, emotionally resonant novel of the South that confronts the truth about privilege, family, and the distinctions between perception and reality---the stories we tell ourselves about our origins and who we really are.
Superheroes have always been Leia Birch Briggs' weakness. One tequila-soaked night at a comics convention, the usually level-headed graphic novelist is swept off her barstool by a handsome and anonymous Batman.
It turns out the caped crusader has left her with more than just a nice, fuzzy memory. She's having a baby boy--an unexpected but not unhappy development in the thirty-eight year-old's life. But before Leia can break the news of her impending single-motherhood (including the fact that her baby is biracial) to her conventional, Southern family, her step-sister Rachel's marriage implodes. Worse, she learns her beloved ninety-year-old grandmother, Birchie, is losing her mind, and she's been hiding her dementia with the help of Wattie, her best friend since girlhood.
Leia returns to Alabama to put her grandmother's affairs in order, clean out the big Victorian that has been in the Birch family for generations, and tell her family that she's pregnant. Yet just when Leia thinks she's got it all under control, she learns that illness is not the only thing Birchie's been hiding. Tucked in the attic is a dangerous secret with roots that reach all the way back to the Civil War. Its exposure threatens the family's freedom and future, and it will change everything about how Leia sees herself and her sister, her son and his missing father, and the world she thinks she knows.
My thoughts about The Almost Sisters ~~
(I love to note the first lines of the books I'm reading. First lines can really grab a reader's attention and I love seeing where the author takes the reader after their first line.)
First line—
"My son, Digby,began at exactly 3:02 in the morning on the first Friday in June. I don't mean his conception or his birth. I mean the moment he began for me, which happened between two larger events."
The Almost Sisters
was a binge read for me. Once I started it, I didn't want to put it down—I devoured it!
One of the things that I love about this book are all the layers to the story, both from the past and the present, and how they are going to impact the future. There is also the interesting cast of characters and all the different, complicated relationships between them. And the title,
The Almost Sisters
, fits perfectly with these relationships, and the story.
About a hundred pages in, I came to the part in the book that totally took my breath away. (Once you read it, you will totally know what I am talking about.) I was not expecting what happened then and this spurred me on to keep reading. I love when that happens.
I have read several other books by Joshilyn and I have loved them all. I seriously think this one is my favorite..... for now. There's always the next one, right?
I received a copy of
The Almost Sisters
from
HarperCollins
in exchange for my honest opinion.
************************
New York Times
Bestselling novelist Joshilyn Jackson is the author of seven novels and a novella:
The Opposite of Everyone, Someone Else's Love Story, gods in Alabama, Between, Georgia, The Girl Who Stopped Swimming, Backseat Saints, A Grown-Up Kind of Pretty
, and the novella
My Own Miraculous
. Her books have been translated into a dozen languages, won SIBA's novel of the year, three times been a #1 Book Sense Pick, twice won Georgia Author of the Year, and three times been shortlisted for the Townsend prize.
A former actor, Jackson reads the audio versions of her novels; her work in this field has been nominated for the Audie Award, was selected by AudioFile Magazine for their best of the year list, has made the 2012 Audible All-Star list for highest listener ranks/reviews, and garnered three Listen Up Awards from Publisher's Weekly. In 2012 Jackson began reading the audio versions of books written by other novelists, beginning with Shine Shine Shine by Lydia Netzer.
She serves on the board of
Reforming Arts
, a nonprofit dedicated to providing theatre infused liberal arts education to women who are under carceral control in Georgia. Through their education-in-prison and reentry programs, Reforming Arts fosters the development of critical and creative thinking skills, encouraging students to build livable lives. Joshilyn volunteers inside Lee Arrendale State Prison, teaching creative writing courses and facilitating a new literary magazine/newsletter that the students are producing. You can find out how to help support this organization
HERE
.
Be sure to check the sidebar for my current giveaways!