Life at the Coffin Joint by Ann Charles and Sam Lucky
Series: Deadwood Undertaker Series Book 1
e-book, 260 pages (print coming soon!)
Published March 21st 2019 by Ann Charles & Sam Lucky
Deadwood (late 1876) ... A rowdy and reckless undertaker's delight. What better place for a killer to blend in?
Enter undertaker Clementine Johanssen, tall and deadly with a hot temper and short fuse, hired to clean up Deadwood's dead … and the "other" problem. She's hell-bent on poking, sticking, or stabbing anyone that steps out of line.
But when a couple Santa Fe sidewinders ride into town searching for their missing uncle, they land neck deep in lethal gunplay, nasty cutthroats, and endless stinkin' snow. Their search leads them to throw in with Clementine to hunt for a common enemy.
What they find chills them all to the bone and sends them on an adventure they'll never forget.
From the bestselling, multiple award-winning, humorous Deadwood Mystery series comes a new herd of tales set in the same Deadwood stomping grounds, only back in the days when the Old West town was young.
My thoughts about Life at the Coffin Joint ~~
(I love to note the first lines of the books I'm reading. First lines can really grab a reader's attention and I love seeing where the author takes the reader after their first lines.)
First line—
"'I'm starting to see why you call this town the last lawless frontier,' Clementine said, bending over the naked bear-sized man laid out on her examination table."
I absolutely love Ann's Deadwood mystery series and I was so excited to hear that she and her husband were embarking on this new series, the Deadwood Undertaker Series, which is sort of a spin-off of her original series. This new series is set in Deadwood in the late 1800's and takes the reader back to the Old West.
What I love about this new series—aside from cracking up over Ann's amazing, fun sense of humor and the zany, lovable characters she creates—is that I get the background story that could, maybe, sort of, explain the craziness that Violet, Doc, Harvey, and all the rest are dealing with in present time in Ann's Deadwood series. It's so much fun to discover the connections between the two worlds.
I devoured Life at the Coffin Joint and can't wait for the new installment this summer when book #2 comes out!
*******************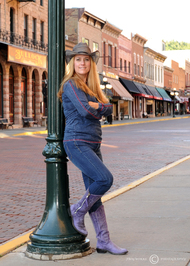 Ann lives in the beautiful Northern Arizona mountains with her clever husband, charming kids, and an incredibly sassy cat. After many years and several colleges, she managed to obtain her Bachelor's Degree in English with an emphasis on creative writing from the University of Washington.
Her books are mixed-genre mysteries full of mayhem and fun, romance and comedy, and whatever else feels right. Sisters in Crime was kind enough to let her join their membership years ago. In addition, she's been a member of Romance Writers of America for so many moons that she's lost count.
Ann has written a bunch of contemporary, award-winning novels in multiple series full of quirky characters with whom she loves to spend time as much as reality allows. Right now, while you're reading this, she's probably frolicking around in another story.
While her reading preferences range from adventure to horror to mystery, ever since she tried on her first training bra, she has loved a good mix of romance, too.
When she's not dabbling in fiction, she's penning writing-themed articles or standing on her workshop soapbox, sharing what she has learned over the years about the writing craft and self-promotion.
Sam Lucky likes to build things--from Jeep engines to Old West buildings to fun stories. When he is not writing, feeding his kids, attempting to seduce his wife, or tending the goldurn cats, he is planning food-based booksigning/road trips with his wife and working on one of his many home-improvement projects.
He writes the Deadwood Undertaker Series with Ann Charles. The first book is called Life at the Coffin Joint, available now.
The second book, A Long Way from Ordinary, will be available this summer. ~ Amazon
*******************************
Be sure to check the sidebar for all of my current giveaways!