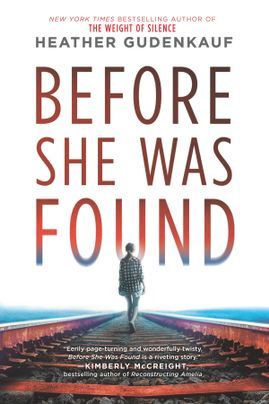 Before She Was Found!
Before She Was Found by Heather Gudenkauf
Print and e-book, 368 pages
Published April 16th 2019 by Park Row
A gripping thriller about three young girlfriends, a dark obsession and a chilling crime that shakes up a quiet Iowa town, from the New York Times bestselling author of The Weight of Silence.
For twelve-year-old Cora Landry and her friends Violet and Jordyn, it was supposed to be an ordinary sleepover--movies and Ouija and talking about boys. But when they decide to sneak out to go to the abandoned rail yard on the outskirts of town, little do they know that their innocent games will have dangerous consequences.
Later that night, Cora Landry is discovered on the tracks, bloody and clinging to life, her friends nowhere to be found. Soon their small rural town is thrust into a maelstrom. Who would want to hurt a young girl like Cora--and why? In an investigation that leaves no stone unturned, everyone is a suspect and no one can be trusted--not even those closest to Cora.
Before She Was Found is a timely and gripping thriller about friendship and betrayal, about the power of social pressure and the price of needing to fit in. It is about the great lengths a parent will go to protect their child and keep them safe--even if that means burying the truth, no matter the cost.
My thoughts about Before She Was Found ~~
(I love to note the first lines of the books I'm reading. First lines can really grab a reader's attention and I love seeing where the author takes the reader after their first lines.)
First line—
"The air is cold, but she barely notices. It's the dark that fills her chest with terror, makes her limbs heavy with dread. But she feels something else, too. Something she can't quite name."
This is a story that grabbed me from the very first chapter and didn't let go until the very end. What an intense first chapter! So much was going on in those first few words that I needed to have straightened out and explained.
The ever changing relationships of the three young girls in this story was so indicative of the lives of teens today Some days they are best friends and then the next day, they could be conspiring against one another, planning and plotting to make the outcast friend miserable.
As the mystery of what happened that night in the abandoned rail yard unfolds, the reader learns all sides of the story and has to question who is telling the truth. What really happened that night? What is the truth?
I loved
Before She Was Found
for it's complexity and for all of the interesting characters whose lives became so intertwined. This is a story that I will definitely read again. I am pretty sure that now that I know how all the twists resolve themselves, I will see everyone and everything in a whole different light.
I received an ARC of Before She Was Found from NetGalley in exchange for my honest opinion.
Heather Gudenkauf is the Edgar Award nominated,
New York Times
and
USA Today
bestselling author of
The Weight of Silence, These Things Hidden
and
Not A Sound
.
Heather was born in Wagner, South Dakota, the youngest of six children. At one month of age, her family returned to the Rosebud Indian Reservation in South Dakota where her father was employed as a guidance counselor and her mother as a school nurse. At the age of three, her family moved to Iowa, where she grew up. Having been born with a profound unilateral hearing loss (there were many evenings when Heather and her father made a trip to the bus barn to look around the school bus for her hearing aids that she often conveniently would forget on the seat beside her), Heather tended to use books as a retreat, would climb into the toy box that her father's students from Rosebud made for the family with a pillow, blanket, and flashlight, close the lid, and escape the world around her. Heather became a voracious reader and the seed of becoming a writer was planted.
Heather Gudenkauf graduated from the University of Iowa with a degree in elementary education, has spent her career working with students of all ages and continues to work in education as a Title I Reading Coordinator.
Heather lives in Iowa with her family and a very spoiled German Shorthaired Pointer named Lolo. In her free time Heather enjoys spending time with her family, reading and hiking. She is currently working on her next novel. ~ Author website