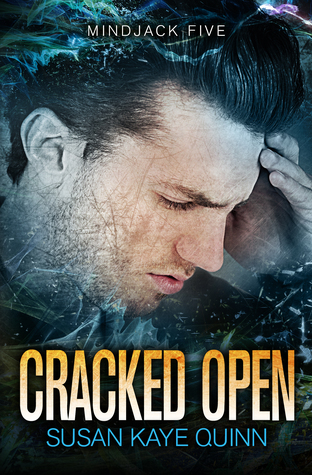 Cracked Open by Susan Kaye Quinn
Series: Mindjack Series #5
Print andebook, 237 pages
Published July 15, 2017 by Susan Kaye Quinn
Zeph always knew he was a weapon. He didn't count on being a spy.
But he made a dangerous bargain with the Director of the Jacker Technologies Division of DARPA—he'd let Wright test his mutant mindjack ability if she'd release his parents. Simple. Occasionally painful. And the screams of his victims fill his nightmares. But it will be worth it as long as she can't crack open his head and find out his sister, with her super-surge jack-ability, is still alive. And if his parents are finally set free.
Once that happens, he's gone. Even if it means giving up everything he's just now getting back. A home. Friends. A girl who believes in peace and love even when the world is falling apart.
But as the shock of assassinations and bombings and hate killings continue to pull at the threads that hold society together, Wright hands him a mission he can't possibly complete. If he does, it will tear everything apart. If he doesn't, he'll lose everyone he loves.
Sometimes being a powerful weapon is the most dangerous thing of all.
The bestselling Mindjack Series continues, diving deep into a world of mindreaders and mindjackers where being different means staying hidden… or struggling to stay alive.
MINDJACK SERIES—Check them out here on Goodreads!
Open Minds (Book One)
Closed Hearts (Book Two)
Free Souls (Book Three)
Locked Tight (Book Four)
Cracked Open (Book Five)
Mindjack Short Story Collection (Novella Box Set)
Book 6 coming soon
My Thoughts about Cracked Open ~~
(I love to note the first lines of the books I'm reading. First lines can really grab a reader's attention and I love seeing where the author takes the reader after their first lines.)
First line—"The pressure on my head is enough to make it crack. At least, it feels that way."
I just love this series. I am constantly amazed that this author can continue to take me back to the exciting, futuristic world of mindreaders and mindjackers where I just want more.
Zeph is a good guy but finds himself on the wrong side, agreeing to do things that he wouldn't normally do, in order to get his family back and to keep them safe. As he plays one side against the other, it's hard to tell who will win.
SKQ keeps this series alive by coming up with exciting new plots and adventures. This series is not getting old or stale but is staying as riveting as it was from the start. Cracked Open is book #5 of this series and I loved it just as much as I loved book #1.
I received a copy of Cracked Open from the author in exchange for my honest opinion.
Susan Kaye Quinn is a rocket scientist turned speculative fiction author who now uses her PhD to invent cool stuff in books. Her works range from young adult science fiction to adult future-noir, with side trips into steampunk and middle grade fantasy. Her bestselling novels and short stories have been optioned for Virtual Reality, translated into German, and featured in several anthologies.
She writes full-time from Chicago, inventing mind powers and dreaming of the Singularity.
Chat with her about our coming robot overlords on
Facebook
.
Find all of Susan's books on
Amazon
Be sure to check the sidebar for all of my current giveaways!